REDI Business Bootcamp
There are currently no REDI Business Bootcamp courses available, please check back later for new courses.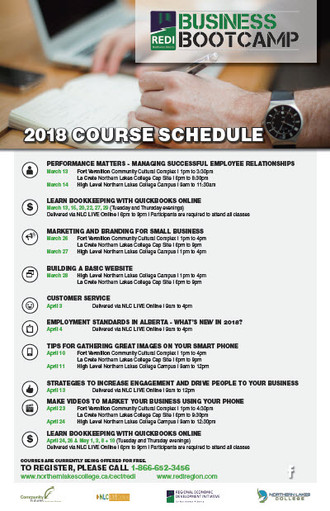 Northern Lakes College has collaborated with the Regional Economic Development Initiative, and Community Futures Northwest to launch the REDI Business Bootcamp in the MacKenzie Region. The REDI Business Bootcamp offers a series of free courses that will help build capacity, and meet specific training needs in the MacKenzie Region. All face-to-face courses are delivered regionally in the communities of High Level, Fort Vermilion and La Crete.
The REDI Business Bootcamp is a unique opportunity for entrepreneurs, managers and aspiring entrepreneurs to acquire essential business skills. The four aspects of the REDI Business Bootcamp are Business planning, Human Resources, Marketing, and Bookkeeping. The REDI Business Bootcamp training offers two delivery formats, one is the traditional, face-to-face delivery, and the second format is online through NLC LIVE Online™, which recreates the customary classroom setting in an online environment.
More information:
Disclaimer: By clicking on external links, such as the REDI Facebook Page link, you will leave the Northern Lakes College website. Northern Lakes College is not responsible for the content and the privacy practices of other sites and encourages you to read the privacy policy of each site that you visit before proceeding.