Do you enjoy doing hands-on work, such as installing, altering, repairing and maintaining electrical systems? Would you like to get involved in a trades career? Northern Lakes College offers the Electrician Apprenticeship First Period through Fourth Period programs that you need to advance your skills set to become a Alberta Certified Journeyperson. 
The term of apprenticeship for an electrician is 4 years (four 12-month periods) including a minimum of 1500 hours of on-the-job training and 8 weeks of technical training in each of the first three years, and a minimum of 1350 hours of on-the-job training and 12 weeks of technical training in the fourth year. For more details about the Electrician Apprenticeship click here.
Career Options
Electricians work for construction and maintenance contractors, manufacturers, resource companies, and other large organizations. They must be willing to go where the work exists. Membership in a trade union is voluntary; however, some contractors employ only union people.
Journeyperson wage rates vary, but generally range from $30 to $50 an hour and may include benefits.
Electricians may advance to positions such as foreman, superintendent, estimator, electrical inspector, technical instructor or move into a management role. Some electricians start their own contracting businesses. (Source: tradesecrets.alberta.ca)
Apprentice Funding
​​​Northern Lakes College is here to assist you with your educational goals and to help you explore different funding avenues.
For designated Red Seal trades, there is a variety of government funding available, including a loan with an interest-free period and grants. Click here for more information. If you want to learn more about Red Seal designation and see a listing of Red Seal Trades in Alberta click here.
We hope you find this information useful. If you have any questions or comments, please feel free to contact our Student Awards Administrator.
Student Awards Administrator Phone: (780) 849-8723​ Toll Free 1-866-652-3456 Email awards@northernlakescollege.ca
First Period Electrician program now available through NLC LIVE Online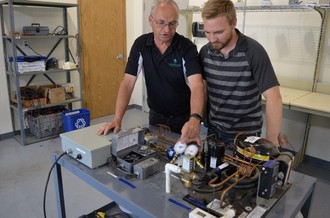 Northern Lakes College is pleased to add a new delivery method for the Electrician Apprenticeship First Period program. NLC LIVE Online allows apprentices to receive scheduled, interactive instruction via the internet and on-site classes with electrical shop and lab demonstrations at the Slave Lake Campus. Apprentices can continue their work full-time while participating in the program, and throughout the duration of the program there will be scheduled activities, exams and suggested timelines to help the student stay on top of their learning schedule.

The first day of the program will be held at the Slave Lake Campus where apprentices will receive orientation to the program's structure, the services of the College, meet trades staff and instructors and receive instructions to NLC LIVE Online. Students will be able to attend classes online scheduled Tuesday's and Thursdays from 6pm to 8pm. Computer and internet access is required to participate.

On-site classes with electrical shop and lab demonstrations are scheduled for week 7 and 13 in the program, and will run from Monday to Friday, 8am to 4pm. Students will need to arrange their own accommodation for the on-site classes as well as for the First Day's orientation.

The program will run for 16 weeks from September 5 2017, to December, 22, 2017. Applicants are encouraged to register early as the program is limited to 8 seats. Apprentices can apply now by contacting Admissions at 780-849-8600 or toll free 1-866-​652-​3456. More information about apprenticeship and industry training can be found at: https://tradesecrets.alberta.ca/