Health Sciences Career Academy
Health Sciences CAREER Academy - Slave Lake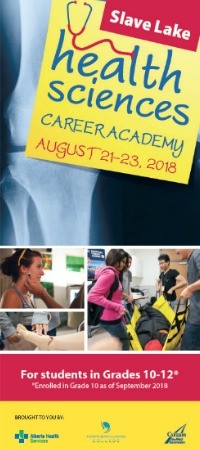 For students in Grades 10-12*
*Enrolled in Grade 10 as of September 2018
Interested in a health care profession?

Northern Lakes College has partnered with Alberta Health Services, and CAREERS: The Next Generation to offer a three-day interactive, educational and unique summer camp opportunity for students interested in a health care career. This interactive, educational and unique summer camp in Slave Lake will provide students with the opportunity to explore a wide variety of health sciences programs and careers. 
Participate in hands-on activities and interactive demonstrations
Tour labs and interact with instructors and students
Go behind the scenes at local health care facilities
Learn about the variety of programs available at post-secondary institutions
Meet health care professionals and hear their stories first hand
Discover career paths in health care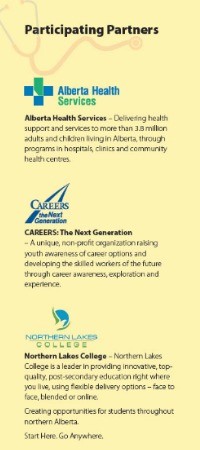 CAREER paths covered include:
Practical Nurse
Social Work
Health Care Aide
Addictions Studies
Emergency Medical Services
Registration Fee: $175 -Registration Deadline: July 20, 2018. For more information, please call 1.888.757.7172 or register online at:
Attendance is limited to 30 participants, and registrations are accepted on a first-come, first-served basis - so register today! A light lunch will be provided daily.
The camp will run from August 21 to August 23, 2018.
Download a brochure and fax/mail your registration.
Download Health Sciences CAREER Academy -Poster
PLEASE MAKE CHEQUES PAYABLE TO CAREERS: THE NEXT GENERATION. ONLY VISA AND MASTERCARD ACCEPTED FOR CREDIT CARD PAYMENT. ADDITIONAL FEE IS CHARGED IF PAYING BY CREDIT CARD.