NLC Robotics Camp
Calling all 12 to 15 year olds! Are you interested in virtual reality? Would you like to try 3D printing? How about make a robot talk?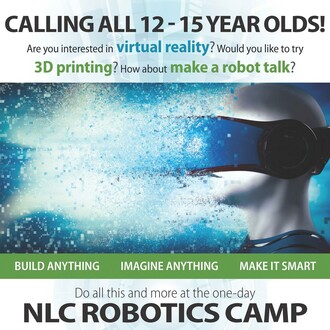 Do all this and more at the one-day NLC Robotics Camp!
Dates: July 23 in High Prairie and July 25 in Slave Lake
Time: 9:00 a.m. – 4:00 p.m.
Cost: $35 each
Bring a bagged lunch.
Space is limited! Register by July 12, 2019
How do I register my child?
Download the registration form. Once it's completed, please drop it off along with payment at either location.
High Prairie Main Campus                         Slave Lake Main Campus
5017 53 Avenue                                           1201 Main St. SE
NLC Robotics Camp Application Form