Free Interactive Workshop Series
Trauma-Informed Leadership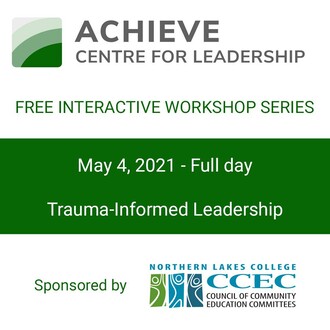 A compassionate and trauma-informed approach to leadership is essential for creating healthy workplace cultures. Trauma is prevalent in our world and has an impact on many of the people we interact with, including staff and colleagues. This workshop explores how to lead with a trauma-informed approach and provides key insights for increasing psychological safety and creating greater resilience for all parts of an organization. Becoming a trauma-informed workplace creates a sustainable foundation that leads to high levels of employee engagement and organizational success. This training will inspire participants to lead with compassion and provide a compelling rationale for why all leaders should be trauma-informed.
FREE Interactive Workshop Series
Trauma-Informed Leadership
Date: May 4, 2021
Time: Full-day
Leadership - the Essential Competencies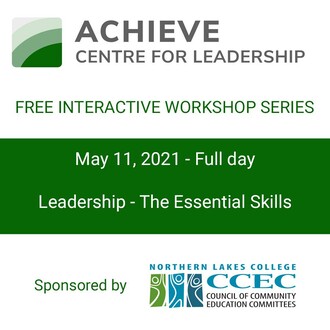 Essential leadership skills and competencies often mean the difference between thriving or failing in a leadership role. To lead effectively, there are some things that leaders must do and know, and not all of them will come naturally. This workshop provides strategies to help leaders increase their abilities to inspire and lead teams effectively. Participants will gain insights about how to best engage others, assess team dynamics, make better decisions, and improve trust and influence with those they are leading.



FREE Interactive Workshop Series
Leadership – The Essential Skills
Date: May 11, 2021
Time: Full-day
Please note: this workshop is now full, please continue to the form if you would like to be added to the waitlist.
Wellness Strategies – Stress, Compassion Fatigue and Resilience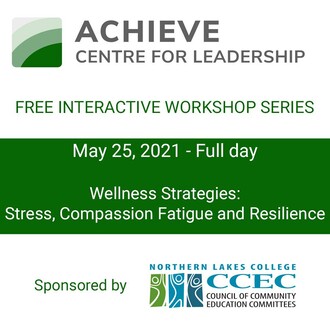 In many organizations, it is common to find employees suffering from the adverse effects of stress. In the helping field, there are additional factors related to the nature of supporting people that can contribute to compassion fatigue or secondary trauma symptoms. Left unmanaged, stress can lead to unproductive patterns and result in loss of focus, motivation, and productivity. This workshop will help participants identify personal stress factors and introduce them to practical methods for successfully managing stress. Participants will have the opportunity to develop a personalized plan to repair the negative effects of stress as well as accelerate their resilience.


FREE Interactive Workshop Series
Wellness Strategies – Stress, Compassion Fatigue and Resilience
Date: May 25, 2021
Time: Full-day