Alumni & Donors
2018 Friend of NLC Recipient: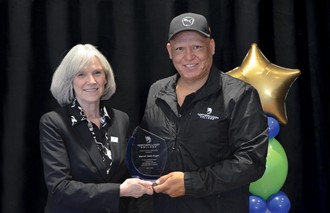 The College was honoured to present Marcel D. Auger, Reeve, MD of Opportunity No. 17 with the award in recognition of his support of the College. Marcel was presented with the award during the Convocation ceremony hosted in June 2018 in Slave Lake.
2018 Valedictorian: Only I Can Define What I Can Do
Valedictorian Makayla Laboucan delivered the farewell statement to the class of 2018.
"When I received the letter indicating that I was chosen to be NLC's valedictorian, I was
shocked. I called my family to let them know because this is a big deal for me,"
Laboucan exclaims.
A member of the Sucker Creek First Nation, Laboucan lives in High Prairie. She
graduated from the Social Work Diploma program in May 2018 and is focused on her
future. "I will be returning to University Studies at Northern Lakes College this winter
before I apply for my degree in Social Work at the University of Calgary for the fall of
2019. I also have plans to continue my studies after my BSW, to pursue a Criminology
degree," she explains.
Read more Alumni stories here.