Our President
President & CEO
Dr. Glenn Mitchell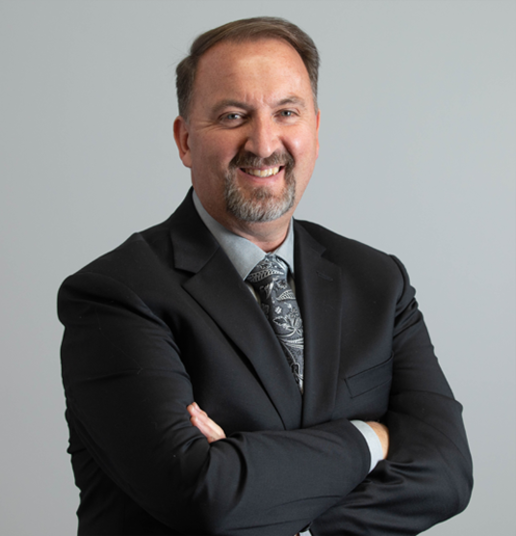 Our President & CEO
Dr. Glenn Mitchell is passionate about the role of Northern Lakes College in providing the most accessible, community-based learning opportunities in the province. He understands that accessibility is crucial to supporting the provincial goal of increased participation in post-secondary education:
Our Supported Distance Learning model enables us to offer programming directly in small, rural communities, even if there are only one or two students in that community who register for the same course or program. Our classrooms are built virtually, so the old way of needing 12 to 15 students at a specific location before we can offer a program in a community is no longer necessary. Offering our programming online helps ensure students can access the programs they need to further their education and improve their quality of life. NLC students participate in classes with students from throughout the service region, across the province, across Canada, and yes, from around the world. This is particularly important in meeting the training needs of the labour force in each community, without training more people than the local labour market can accommodate. It is also really important in providing educational opportunities that will work for students and their life demands, allowing them to balance school, work, and family.
A long-term resident of Slave Lake, Dr. Mitchell has nearly 25 years of leadership experience in the education sector and a demonstrated commitment to post-secondary education through his 15-year tenure with the College. Prior to his appointment as President & CEO, he held various positions at Northern Lakes College, including Distance Learning Coordinator, Director, Dean, and Vice-President, Academic.
Dr. Mitchell's educational background includes two undergraduate degrees and a diploma in Adult Teacher Education from Memorial University of Newfoundland, and a Master in Leadership and Doctorate specializing in Leadership in Post-Secondary Contexts from the University of Calgary. 
Dr. Mitchell values the strong Community Education Committee community engagement model that has been in place since the inception of the College. "Our relationships with municipalities, First Nations, Métis Settlements, school divisions, and business and industry are invaluable, and we can achieve greater things within our region when we work together," he comments.
Dr. Mitchell is committed to expanding opportunities for learners and communities in the NLC service region, through strategic CampusAlberta partnerships. "All partnerships are important and exciting, and we are thrilled with our CampusAlberta partners including the University of Calgary, Lakeland College, Medicine Hat College, and Athabasca University. We value our relationships with numerous school divisions throughout the province focused on dual credit, and our work with the Community Adult Learning Programs and the Community Learning Network, focused on foundational learning opportunities for students," he explains.  
Dr. Mitchell embraces the Northern Lakes College values of accessibility, collaboration, community, excellence, lifelong learning, and respect. "Northern Lakes College will grow programs and services in ways that both meet the emerging needs of the labour market, and enable students to continue their education, to improve their employment opportunities, and to enhance their quality of life," he explains.

"At Northern Lakes College, we count our success one student at a time"
  – Dr. Glenn Mitchell, President & CEO