Facility Services
Need to book a room?
Northern Lakes College offers a wide range of facilities and services to meet your event and business needs.
Slave Lake Campus
The facilities at the Slave Lake Campus are able to accommodate conference calls or deal with face-to-face meetings and conferences ranging from 5 to 300 people.  Our facilities can be booked by the hour or by the day.  The Slave Lake Campus also has catering, cafeteria, an indoor swimming pool, and gymnasium with a climbing wall onsite.
For more information, contact:
Facilities: (780)751-3280
Toll Free: 1-866-652-3456
Email: facilitieshelpdesk@northernlakescollege.ca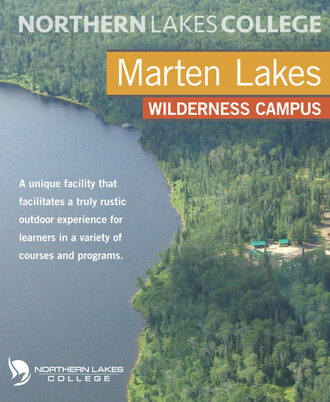 Marten Lakes Wilderness Campus
We also have a remote wilderness camp that offers a rustic outdoor experience. The campus includes accommodations (bunkhouse plus individual cabins), a kitchen, classroom, shower house and more. This facility is an ideal location for forestry-related programs, companies wishing to host training events for staff, corporate wellness and recreation programs, and private group gatherings. 

For more information, please browse the brochure for Marten Lakes Wilderness Camp.
Video monitoring may be used for purposes related to the safety and security of individuals and to protect and manage Northern Lakes College properties and off campus sites owned or controlled by the College. Notices are posted at locations where video monitoring is in use.