Dual Credit
Dual Credit provides high school students with the opportunity to get a head start on their post-secondary education - by taking a course that earns them both high school and post-secondary credits at the same time.
Dual Credit Opportunities available through NLC
Why take a Dual Credit Opportunity?
+
A Dual Credit opportunity provides many benefits including:
SAVE MONEY:  The College has a 50% reduction in tuition fees for dual credit students plus some school divisions cover all or part of the cost, saving you and your parents thousands of dollars.
It helps prepare high school students for a post-secondary environment, and eases the transition from high school to college.
It lowers future workload by allowing students to complete courses toward a credential before entering a post-secondary institution.
Taking a course, or courses during high school can give a student the motivational boost they need to stay in school, and build confidence to continue on a post-secondary path.
Many students' high school grades are positively impacted when they participate in a Dual Credit opportunity because it highlights the need for education as they consider their future careers.
It provides an opportunity for hands-on experience that links learning to satisfying careers in the workplace, but does not interrupt high school programming.
Time and money invested in education at a post-secondary level can be significant. Exposure to courses earlier on can assist in determining if a specific career is the right choice for a student.
Information for Prospective Dual Credit Students
+
How to Apply
Meet with your secondary school counsellor
Ensure you have completed the prerequisites before the program starts
Design your timetable to accommodate the Dual Credit program.
Complete the NLC Dual Credit application package and return it to your counsellor, who will forward the completed forms to the College. Note that if you are under 18 years of age, the forms will require the signature of your parent or guardian. 
Admission and Orientation
Students are accepted on a first qualified, first served basis. For this reason it is important to complete all parts of the NLC Dual Credit application package and submit it on time.
You and your parent(s) or guardian(s) may be required to attend an orientation with a representative of the College prior to the start of the program. The orientation is to ensure that both students and parents know what is expected from the College and to answer any questions that you may have. 
Costs of the Programs and Courses
Each school division will address costs independently; however, some school divisions cover all, or part, of the costs of taking the post-secondary course or program. Please see your high school counsellor for information on what costs are covered at your school.
$500 Bursary Available to Dual Credit Students
Students who are successful in a Dual Credit program now have an extra incentive to complete their high school education. Northern Lakes College offers a $500 bursary to Dual Credit students who, upon graduating from high school, enrol in the College to continue their post-secondary education. Please Note: The Dual Credit Bursary is only eligible to students attending a trades or post-secondary program, and it must be a credit program.  
For more information about the $500 Dual Credit bursary, click here.
Learning Accommodations
Dual-credit students requiring learner accommodations are asked to communicate the need for accommodations on their Dual Credit application.  The College Accessibility Services team will then work with the high school to gather supporting documentation and work with students to provide the required accommodations. 
Information for Current Dual Credit Students
+
Set up College email
When you are accepted into a Dual Credit course/program, you will receive an email from the College explaining your next steps, including setting up your College email.  This acceptance email will be sent to your personal email, however, after this point, the College will send all information to your College email address.  It is essential that you set up and check your College email regularly.  
Access your course online.
Ten days before the course start date, you should receive an email with instructions about logging into your course online.   The College uses Learning Management Software that keeps all the information about your course online in one spot that you can access anytime.    The College uses software called Desire to Learn (D2L) Brightspace.  You should log into your course before the course start date. 
Access the IT Help Desk
If you need help setting up your College email or accessing your course in D2L, you can contact the IT Help Desk by phone at 780-751-3290 or by emailing helpdesk@northernlakescollege.ca.   There is also a Frequently Asked Questions (FAQ) section on the NLC website that may help solve the issue.
Program Orientation
Programs have an orientation at the start of the semester, and it is recommended that dual credit students attend even if only taking a course or two from the program.  The orientation will introduce you to the layout of the courses and expectations of the program, plus it will introduce you to key services available at the College.  The orientation for most programs is online and is recorded, so if you miss it, you can watch the recording.
Communicating with Your Instructor
You must communicate with your instructor and high school counsellor/advisor if you need help with your dual credit course.   These people want to see you succeed and will work with you to address your challenges.  Contact your instructor early, do not wait till it is too late.  
Access to College Services
You can access services at your high school and the College as a dual credit student.   Services at the College include; library, counselling, job board, elder program, wellness programs and student services.   If you want to learn more about the services available, please visit the NLC website.   
NLC Student Code of Conduct
As a dual-credit student at NLC, you are held to the same academic standards and requirements as NLC's adult students. It is important that you review and understand NLC's Student Conduct procedure. 
This document outlines your rights and responsibilities as a student and describes the consequences for actions related to cheating, plagiarism or other forms of academic misconduct.
Withdrawing from a Dual Credit course/program
It is important that if you are not going to be able to complete your course or are not going to pass the course, you should officially withdraw from the course.  At NLC, you must withdraw before 65% of the course is complete, or you will receive a grade, even if it is a failing grade, and this will remain on your NLC transcript and impact your Grade Point Average (GPA). 
The key withdrawal dates document will list withdrawal dates for your course.  It would be beneficial to put these dates into your calendar to avoid missing them.  
To withdraw from your course, contact your NLC instructor or your school counsellor, and they will review options with you.   If you decide to drop the course, they will help you with the necessary paperwork.  It is the student's responsibility to officially drop a course before the deadline. 
Grading and Transcript
As a dual-credit student at NLC, you will have an official NLC transcript that shows the grades earned in your NLC courses.  The grades are shared with your high school, and the school will assign grades to the appropriate high school courses based on the College grades.   The high school courses will show on your high school report card. 
A critical difference between College and High School is that College requires you to maintain a minimum Grade Point Average (GPA).  If your GPA drops too low, you will be placed on Academic Probation or be Required to Withdraw from College courses.  To maintain a satisfactory GPA, you should withdraw from courses you will not likely pass before the withdrawal deadline.  If you are considering dropping a course, you should contact your instructor, or high school, to discuss your situation, and they can discuss options for you.   
For more information on grading, check out the NLC grading regulation.     
Information for Schools and School Divisions
+
Most of the Dual Credit programming at NLC is delivered in an asynchronous (pre-recorded) manner using technology so that it is available to any high school. If you are interested in pursuing a Dual Credit partnership with NLC, please contact:
Brian Panasiuk​ ​ ​
Chair​, Dual Credit and Recruitment
Email: panasiuk@northernlakescollege.ca
Toll Free number: 1-866-652-3456     
Office number: 780-751-3311     ​​​
Cell number: 780-523-6259
2023-2024 Key Withdrawal Dates
+

Download 2023-2024 Key Withdrawl Dates (PDF) »
Explanations of Key Withdrawal Dates
Early Withdrawal
Students that withdraw before this deadline no record of this course will appear on your transcript. This deadline is 20% of the length of the course.
Last Drop Date
This is the last day you can withdraw and receive a "W" or Withdrawal on your transcript. After this date, you will receive a grade in the course. This deadline is 65% of the length of the course.
100% Refund Deadline
Students withdrawing within the first ten business days after the term or course start date will be refunded all fees and tuition paid less commitment and LRF administration fees. Please note refund of LRF is dependent upon the return of all relevant learning resources (unopened) to the College. Students in program and course offerings of two months or less will be eligible for a refund, less commitment and LRF administration fees, within the first five business days.
75% Refund Deadline
Students withdrawing after the first ten business days and up to twenty business days after the term or course start date will be refunded 75% of tuition and SA fees, less commitment fee (tuition refund deadline). The LRF will not be refunded. Students in program and course offerings of two months or less will be eligible for a refund of 75% of tuition fees, less commitment fee, after the first five business days and up to ten business days after term/course start date.
Alberta Education Provincial Mapping Documents
​
Trades Pathway: Find the path that works for you!
+
Dual Credit programming includes trades offerings, which are also called "Pre-Employment". Did you know that students can graduate from high school with the first year of a trade in hand? This is a huge benefit to high school students, their parents, and their communities. 
Pre-Employment Trades Information
Dual Credit Stories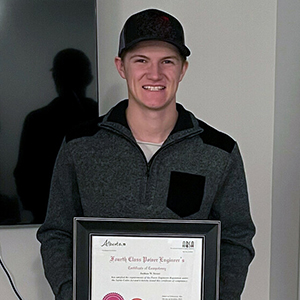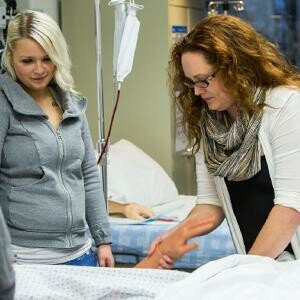 A Career In Power Engineering                           The Local, Homegrown Workforce We Need

Read Joshua's Story                     Read Health Care Aide Story