A Career in Power Engineering
Posted on Apr 17, 2023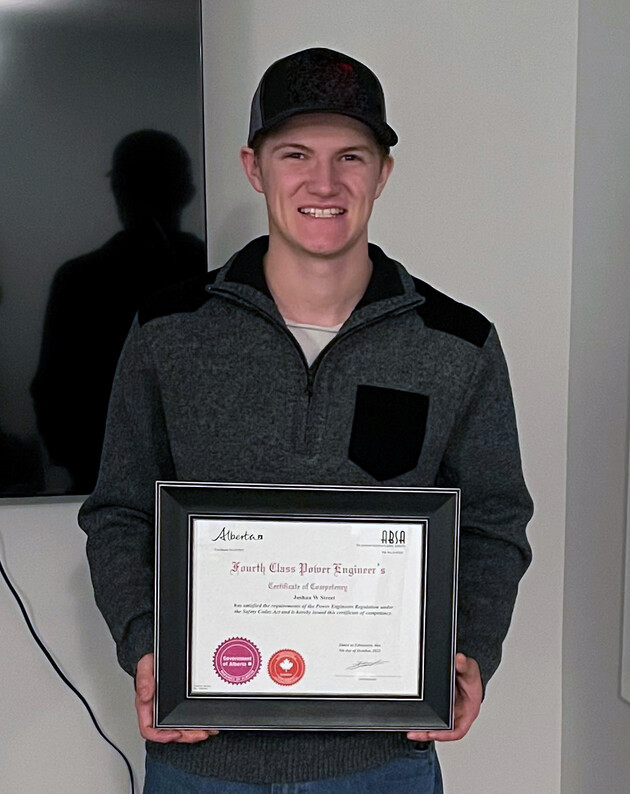 Joshua Street always had a passion for mechanics. Realizing his natural aptitude at a young age, Joshua enrolled in the Dual Credit Power Engineering program at Northern Lakes College. The Dual Credit program allows high school students to take college-level training while also gaining the high school credits needed for an Alberta High School Diploma.
Joshua's dedication to his studies and his hard work during the program paid off in dividends as he received his Fourth Class Power Engineer's Certificate just three months after obtaining his high school diploma. Joshua found the Power Engineering program was comprehensive and allowed students to fully develop their new skills with great insight and certainty.
Joshua reflects, "The online program provides you with a lot of information. I think [NLC] students get better versed, and probably are more prepared for the ABSA certificate, just because we're delivered so much more content than students in other schools. You can also learn quite a bit from reviewing your tests after they're marked."
The knowledge and practical skills Joshua gained did more than just help him develop the ability to work in a new industry, but also provided him with the necessary self-confidence to enter the workforce. "When I first started my internship, I walked in the gas plant knowing that my education prepared me to work safely and receive the hands-on training that I would need to succeed." As well, Joshua found the job-hunting process for Power Engineering to be quick and painless. "Power Engineers are in high demand. If you're a Power Engineer, you can get a job very easily. It really almost eliminates the job hunt," he exclaims.
Joshua currently works for Canadian Natural Resources, doing work he finds fulfilling and mentally stimulating. He reports that CNRL is a great place to work as it provides all the benefits he wants in shiftwork. Because the boilers require 24-hour supervision, Joshua works on a 28-day rotation, allowing him to have more flexibility with his time off. "Another benefit is your work stays at work. Once you're done the day, you come home, and you leave it behind you. There's no paperwork or stuff piling up," he explains.
To students considering beginning their studies while still in high school, Joshua provides the following advice: "If you already know that you're going to go after a trade once you graduate, and power engineering is something you enjoy, focus on the high school classes that are relevant to you and that will support the goals you have. Prioritize your education in Power Engineering because, at the end of the day, that's going to get you a job."
LEARN MORE ABOUT DUAL CREDIT OPTIONS AT NLC »
LEARN MORE ABOUT RESOURCE TECHNOLOGY PROGRAMS AT NLC »