Creating a New Life Through Education
Posted on Dec 16, 2022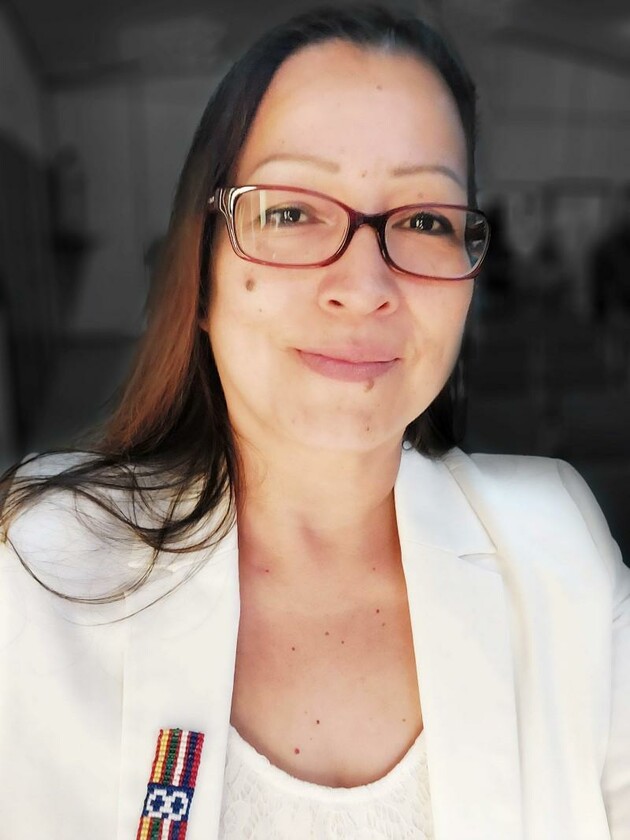 Looking back over her professional and educational journey, there are so many defining moments for Hilda Lambert. However, obtaining her Certificate of Completion in Academic Upgrading stands above the rest. "When I achieved the courses that I needed to get into my post-secondary program, that was an amazing feeling. I thought I would never get there. I did things 'backwards'; I had my children first then I got my education. I never thought I would be able to do it," explains Hilda.
An active member of the Métis Nation of Alberta (MNA), Hilda has been involved in several capacities, from a youth representative in 1999 to becoming Vice President of Region 5 in 2018. Prior to this, she worked with Rupertsland Institute, connecting individuals to learning opportunities. Throughout her career, Hilda has worked mainly for Indigenous and non-profit organizations and primarily in roles to help build community and individual capacity. "I love to help people see outside of their situation and the steps to get to where they want to be. I believe you can create a new life through education," she explains.
After completing Academic Upgrading at the Northern Lakes College Smoky River Campus in her hometown of McLennan, Hilda enrolled in University Studies at the Slave Lake Campus. Over the course of the next three years, she took a variety of courses, trying to find her 'niche'. "I knew I wanted to help people. Ultimately, I went into social work because I am a community helper at heart. Today, my role with the MNA allows me to serve our citizens with the programs and services we can offer," Hilda says.
It was during her years in the University Studies program that Hilda began to look into her Métis history. She took on part-time jobs at the Slave Lake Campus as a security guard and worked in the library, and it was while working in the library that she really dug into her genealogy and family history. Explains Hilda, "I was raised Métis and always identified with the culture, the music, the jigging. It all spoke to me. But I really began to research and embrace my cultural history when I moved to Slave Lake."
After completing three years of general studies with Northern Lakes College, Hilda transferred into year three of the Bachelor of Social Work program at the University of Calgary. "When I successfully transferred to the U of C, I thought to myself, 'I am actually going to do it!' It took about five years all together to get my degree, but it was so worth it," she recalls.
Reminiscing on her time with Northern Lakes College, she comments, "It was very friendly, like a family, because the classes were small. I was raising three children at the time, and worked most of the way through my studies, and the College was a very supportive environment for someone juggling a lot of responsibilities," she says. "I am so grateful of the support of the instructors. They understood when things happened with family and children. The flexibility afforded by NLC was really appreciated."
About her choice to pursue further education, Hilda explains, "Essentially, I did this for my children. I decided to excel so that I could be a role model and achieve a better life for them; to provide for them independently and not have to rely on anyone else to support my family. Advancing my education provided me with greater opportunities to do that. Through this experience, my children learned that education is key to having an enriched life, be it a trade or a degree."
Looking back, Hilda acknowledges the supporter that has always been there for her. "My mom has always been my biggest fan and greatest supporter. She knew education was the best way for me to get a better life. She instilled in me that I needed to equip myself to be able to compete in this world."
It is clear that the role modeling and example Hilda provided her children has taken. She explains, "I am now a new, blessed, proud grandmother and I am also beyond proud of my eldest child, my daughter, Lynette, for following in my footsteps by choosing NLC for her studies. She is excelling in University Studies and completing the two-year, Social Work Diploma program. She plans to move to Slave Lake, and I am elated to spend more time, helping with my precious granddaughter, Elowen, while Lynette pursues her degree in Social Work, as well."
LEARN MORE ABOUT ACADEMIC UPGRADING PROGRAMS AT NLC »
LEARN MORE ABOUT UNIVERSITY STUDIES PROGRAMS AT NLC »