Good Works
Posted on Apr 17, 2023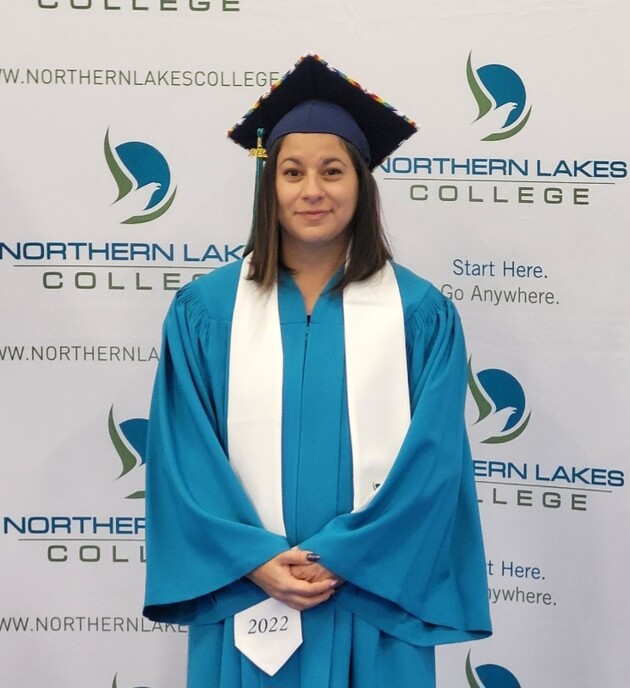 Chantelle Redman began working with children in 2019, when she was hired as a teacher's assistant in Mimiw-Sakahikan School. As an Indigenous woman who had graduated through the provincial school system, Chantelle was aware of the lack of cultural supports available to Indigenous children and families. However, when Chantelle began her work as part of an Indigenous school led by the Maskwacîs Education Schools Commission, she was inspired by the important role the institution played in the community. Working collaboratively with families to preserve the Cree language and empowering young students with cultural knowledge, the school prioritizes engaging in community events, supporting family involvement, and providing an exceptional educational experience.
"I noticed the good work the school was doing right in the beginning, and I thought, the best way for me to contribute to the education of these kids is to go back to school myself, and see what I could learn," says Chantelle.
Chantelle found quick success in her studies. After first completing the Northern Lakes College Early Learning and Child Care Certificate, she wasted no time in enrolling in the Early Learning and Child Care Diploma program. With both the certificate and diploma programs completed, Chantelle went on to register in the University of Calgary's Community-Based Bachelor of Education, a program that allows NLC students to achieve a four-year teaching degree while staying in their own communities, by providing non-Education coursework (such as Math, Science, Early Childhood Education, Revitalization of Indigenous Languages, English Language Arts, and Social Studies) through NLC, while obtaining the required major courses through the University of Calgary. The program is facilitated through online, blended, and onsite delivery methods.
With the support of her family – many of whom had graduated from NLC programs themselves – Chantelle felt confident in her ability to succeed. She grew to know her instructors as supportive and attentive professionals and found passion in what she was learning.
"Because I'm First Nations, learning about the conditions my ancestors had went through in pre-confederation times kind of opened my eyes," says Chantelle. "This is the history that needs to be taught. We need to know about their achievements and hardships. This is a way for growth - for the younger generation to learn about where they come from. So just learning about my culture has been rewarding."
As well as providing historical context, Chantelle has found her education to be immediately useful in the classroom. She explains, "Incorporating what I learned into the class setting has been a big help for me, both practically and mentally. But I feel like what I'm learning has helped my students, because I'm able to provide them with even just a little bit more than I could before."
In the future, Chantelle hopes to teach her own elementary classes. She is focused on continuing her career with the Maskwacîs Education Schools Commission in order to continue supporting her community and its young families. With an attitude of acceptance and respect, Chantelle's philosophy is one driven by viewing the youth in her care as children instead of students. "That's what we are taught to do above anything else; build those relationships so the kids know they can trust you."
But equally important, stresses Chantelle, is that the safe adults in young people's lives trust themselves. "You need to believe in yourself," she counsels to others interested in seeking secondary education. "It is doable, and you can do it. You just have to organize your life, set your goals, and follow through. Because it's so rewarding when you do."
LEARN MORE ABOUT UNIVERSITY STUDIES PROGRAMS AT NLC »
LEARN MORE ABOUT HUMAN SERVICE CAREER PROGRAMS AT NLC »