Things Just Fall into Place
Posted on Mar 25, 2021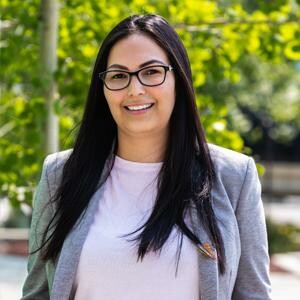 Returning to school as a mature student is never a simple task. Brooke Ghostkeeper can attest to that. In spite of the challenges, her advice to others is concise: "Just do it! It is a life-changing experience. Things just fall into place." It is evidently worth the sweat and tears, as Brooke's educational ambitions have no end in sight.
Brooke was born and raised in High Level and relocated to Slave Lake as an adult. Looking to start a career where she could set long-term goals, she enrolled at Northern Lakes College in Slave Lake, graduating from the Social Work Diploma program in June 2014. Brooke did her program practicum at WJS Canada, landing a full-time job there upon graduation. Commenting on how she felt on graduation day, she says, "I could not believe that I had achieved my goals and my dreams. I had achieved a milestone. It was a surreal experience."
Being able to stay in her community as she attended Northern Lakes College meant she had the support of friends and family as she pursued her studies. She and her partner have two children, and relied on friends and family for childcare many evenings and weekends. "I chose Northern Lakes College because it is in my community, which is convenient. Moving from the community to study was not an option I would have considered," she states.
One of the many benefits of attending Northern Lakes College, with its small class sizes, was that she had the support of her instructors. She recounts, "When I got to a point where I was overwhelmed with personal challenges, they were there to support me. They helped me to stay focused on my goal and to push through."
Today, Brooke works as a Criminal Court Worker and has recently completed her Bachelor of Social Work through the University of Calgary. When asked where she sees herself in five years, she does not hesitate, "I will be working on a Master's degree in Social Work."
Today, Brooke works for the High Prairie School Division as the Indigenous Success Coach. After taking a three-year break from studies, she started her Bachelor of Social Work through the University of Calgary in September 2017. She is on track to graduate with her degree in November 2020 and is interested in the field of mental health and addictions. When asked where she sees herself in five years, she does not hesitate, "I will be working on a Master's degree in social work."
Learn more about NLC's Human Service Career Programs