A Dual Credit Journey to Success
Posted on Sep 28, 2017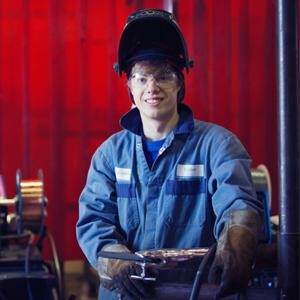 What inspires you? Have you ever thought about the reason why you do the work that you do? Inspiration is what a lot of people search for and for Northern Lakes College Alumnus Kyler Schamp, it is what drives him. Schamp is a small town guy with big picture thinking. As a teenager, he enrolled into the College's Dual Credit Welding program and earned his high school diploma and industrial certification credits at the same time. He had logged almost five years of work experience while most of his peers only begun to enter their chosen fields.
Northern Lakes College (NLC) offers a variety of Dual Credit programs and courses for high school students that are delivered through different methods: on-campus classes, online classes, or a mixture of distance learning and face-to-face instruction and labs. "I learned my skills through Northern Lakes College and while working in the industry. Through studying, challenging exams, and hands on tasks, I learned problem solving skills, physical endurance, how to work with others, and developed a strong work ethic in an industry that deals with precision work." About his Dual Credit experiences, Schamp said. "I'll definitely go back to NLC to take other programs."
Over the years, Schamp has demonstrated a strong commitment to his trade. From entering into the Dual Credit program to participating in welding competitions, he shows no signs of stopping. This year, the College reached out to him and asked him to instruct the one-week Mind Over Metal Welding camp in High Prairie. The camp teaches youth the basics of welding and cultivates their interest in the industry. "The chance to pass my knowledge onto a younger generation was the main reason I took the position as an instructor. I used my welding knowledge as a tool to leave my own personal footprint. Knowing that this may benefit others and inspire future welding careers brings me pure joy." says Schamp.
Dual Credit programming provides Grade 10, 11, or 12 students with the opportunity to participate in apprenticeship training or get a head start on their post-secondary education and to earn both high school and post secondary credits at the same time. It gives students, such as Schamp, the opportunity to engage and be exposed to college courses and campus culture. Many students' high school grades are positively impacted when they participate in a Dual Credit program because it highlights the importance of education as they consider their future careers.
"NLC really opened my eyes to where welding could lead me. I enjoyed the program too – I met lots of great people and made a lot of friends who are now in the industry." Schamp is moving forward in his educational pursuits and is currently embarking on his Red Seal Heavy Duty Mechanic ticket while continuing his work in the welding industry. "I am looking forward to new experiences, skills, and knowledge that I am bound to acquire on this journey."
If one thing can be said, Schamp definitely is an inspiration that you can achieve anything you set your mind to and that there are great opportunities out there when it comes to education.