From Alumni to Faculty: Getting There Sooner than Anticipated
Posted on Apr 17, 2019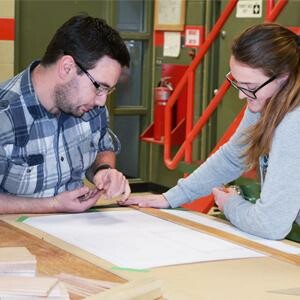 Ryan Broadfoot always thought he would cap a long carpentry career and ease into retirement by teaching in the trades. "I've gotten there sooner than anticipated," he laughs. "The idea was that I would teach when I was 55 and didn't want to work in construction or out in the elements anymore." Life has a funny way of working out. Shortly after obtaining his journeyman carpenter and Red Seal designations, the opportunity to teach carpentry with the College presented itself.
Originally from Merritt, British Columbia, Ryan and his wife moved to Slave Lake to find work in 2008. They have two boys, aged ten and seven. He worked as a registered apprentice for about six years before enrolling in First Period Carpenter. In hindsight, he would have enrolled in schooling earlier. He was already working in the industry but was not getting the wage he would have as a journeyman. Ryan completed all four Carpenter Periods with NLC and is now a journeyman carpenter.
Ryan particularly enjoys house framing and concrete form work, which entails building forms to encase concrete until it hardens and forms. Form work is used when basements are poured and sidewalks are built. Bigger buildings like parkades are all concrete so would have forms for the columns and suspended slabs.
Ryan reflects on his time as a carpentry student at the College and remembers how his instructors took the time to listen to their students and assist them on a one-to-one basis. This has influenced how Ryan now approaches teaching his own students. "Finding out where students are at in their knowledge, and it is different for each student, and then providing them with the specific knowledge, skills, and abilities they need to succeed is rewarding," he shares. Though teaching is a lot more challenging than he expected, he thoroughly enjoys passing on the knowledge he has amassed over the years. While Ryan may have thought teaching would be his "retirement career", he now intends to complete a Bachelor of Education, become a certified teacher, and make teaching his career.
To others interested in the trades, Ryan encourages them to take up carpentry. "We always need to have trades people. The satisfaction of building something with your hands is that you get to look back at the end of the day or end of the job to see the hard work pay off in a physical object," he says. The Red Seal designation also allows tradespeople to work across Canada. Carpentry work is available in all Canadian jurisdictions and is a great trade to embark upon if you would like to work around the country. There are many options and opportunities for work, including the municipal, commercial, residential, and industrial sectors.