From Insecure to Inspiring
Posted on Jun 17, 2021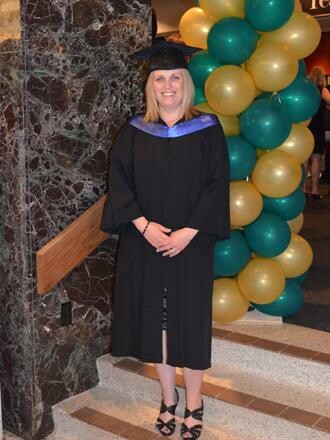 Lack of self-confidence can hinder a prospective student's decision to apply for college or university. This is a struggle that Christina Denis, alumni of the Northern Lakes College University Studies program, knows intimately.
"I was a high school dropout," Christina explains. "I'd moved from my home province with my parents when I was 16, and my education just sort of got lost in the mix. Without having graduated from high school, larger schools never would have accepted my application. I felt embarrassed and ashamed. I had very little confidence when I went into Northern Lakes College. At first, I was so scared. I thought I was going to be so old compared to everybody there!"
In her mid-twenties, Christina found herself working at a job that didn't challenge her, and she was often lonely as her husband, Jason, worked away in camp. The couple were hoping for a child but, in the meantime, Christina felt as though her life was on hold. It was Jason who encouraged Christina to obtain her GED and then apply to the University Studies program at NLC.
Despite her concerns about academic performance, Christina soon found herself moving through her courses with great enjoyment. The classes were challenging and invigorating, and she formed quick friendships with other students. Explains Christina, "NLC was the best place to start. I don't know if I would have followed through if I had started at a larger university. All my classmates were so nice and welcoming." Christina graduated from the University Studies program in 2007, enrolling at the University of Alberta to complete her degree. Upon graduation, she found a teaching position in Sherwood Park.
When Christina and Jason decided to return to her home province, she found a job teaching at Waywayseecappo Community School. Thanks to an education that provided her with a strong understanding of childhood development and mental health, Christina flourished as a teacher, forging nurturing relationships with her students. Also the head coach of a gymnastics club in a neighbouring community, Christina was thrilled to coach at-risk youth in their athletic growth and emotional development. It seemed there was only one thing missing: Jason and Christina's hopes of bringing children into their family had not come to fruition.
However, it was plain to Christina that so many children needed parents. After all, some of her own students were in the foster care system. Determined to offer a child in need a home, Christina and Jason applied to become foster parents. "I'm forever grateful for what I learned in my degree. It helped me create a fulfilling career, but also to better understand childhood trauma. Because of my education and professional experiences, I was able to see what kind of foster home I wanted to create for the children in my care," explains Christina.
Finally, Christina and Jason's dreams of becoming parents had come true. Now a permanent foster mother to her nine-year-old daughter, Christina is able to approach parenting with a broad, compassionate, and well-informed perspective.
Learn more about NLC's University Studies Program