NLC Alumni, Chris Montgomery-Hewett
Posted on Aug 14, 2019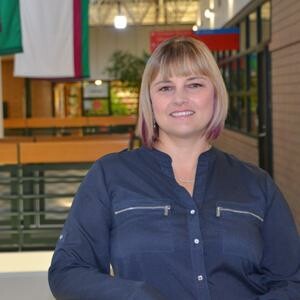 Chris grew up near Wapella, Saskatchewan. She credits growing up on a cattle farm for developing her inclination for understanding how machines work. Her mechanical inclination led her to working with heavy equipment and, ultimately, to finding her passion in the welding trade.
Chris learned to study independently early on in life. At the age of 14, she left home to join the international alpine skiing circuit. She completed grades 11 and 12 through correspondence, as the training and racing regime did not allow her to attend a traditional high school.
With opportunities abounding to the west in Alberta, she moved to Slave Lake in 1999 to work at Exact Pipelining running heavy equipment and working as a general labourer. In 2000, Chris left Slave Lake to attend the University of Manitoba, where she completed the first year of a degree. In the summer of 2001, she returned to Slave Lake for a summer job at Exact Pipelining. She opted not to return to university in the fall, because of an excellent employment opportunity.
Chris' work provided her with an exposure to multiple trades, and she found she had a keen interest in welding. She enrolled in the First Period of Welding apprenticeship at Northern Lakes College in 2006, completing all three Periods in short order. She obtained her welding journeyman ticket in 2008.
Chris ran her own welding company for four years, specializing in B-Pressure and CWB welding for pipelines and industrial facilities. During her years running her welding company, she also worked towards the completion of her university degree through online learning, with the idea of becoming a high school shop teacher. She completed her Bachelor of Arts in 2011.
Her opportunity to teach came calling in 2012, when she began teaching welding for Northern Lakes College. Some aspects of this shift were easier than others. She had gone through the program that she would be teaching as a student, so was familiar with it. She understood how Apprenticeship and Industry Training (AIT), the College, and the student worked together through the apprenticeship process. The learning curve was adjustment to working in a post-secondary setting where the pace is different from the field. In a learning setting, the emphasis is on the student experience and the learning process. The post-secondary environment is consultative, collaborative, and change occurs in a measured manner. Chris adjusted and soon found her groove in the classroom.
In 2017, Chris became Coordinator of the Trades department, moving from the classroom to coordinating programming. She also began a Master of Arts in Interdisciplinary Studies (MAIS) through Athabasca University. In the fall of 2018, Chris was seconded to the position of Chair of Trades and Resource Technology, which became a permanent assignment in the summer of 2019. "As an instructor, you are
impacting students day-to-day and face-to-face. As a manager, your focus is more impacting the staff, the programming, and ensuring our communities and students are getting the best opportunities we can bring them," she comments on her transition from the classroom.
Chris finds her work with Northern Lakes College satisfying. "I really believe in our mission statement and values, what we do, why we do it, and how we do it. I benefited from NLC as a student, and am proud to be part of the NLC team, ensuring we continue to provide northern Albertans with educational opportunities."
Chris fills any spare time she might have with gardening, playing piano, painting, and building. She built her own "she-shed", where there are no electronics allowed. She uses the space to paint, start plants in the spring, and work on her master's courses.
Her advice to others: "If you are interested in pursuing both a university education and a trade designation, don't limit yourself. You can become a tradesperson, work, and support your way through university, or vice versa. Don't box yourself in. They are both valuable and worthwhile pursuits. It has made me a well-rounded person."
Chris left Northern Lakes College in 2020 to explore further opportunities.