A Career in the Dynamic Field of Paramedicine
Posted on Oct 16, 2020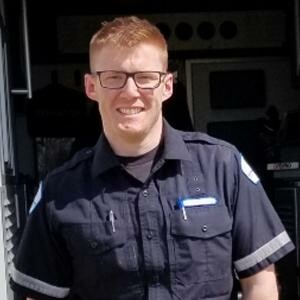 Northern Lakes College alumni Kris Porlier has worked in the field of paramedicine for 20 years and is passionate about the contribution paramedic practitioners bring to the health system. Kris returned to studies in 2016, after 15 years of paramedical experience, to obtain his Advanced Care Paramedic (ACP) diploma with Northern Lakes College.
"The field of paramedicine is a dynamic and ever-changing profession, with more 'streams' becoming available, such as tactical, community, and transfer-of-care, as well as paramedics with Master's or Doctorate degrees in Education," explains Kris.
"Advanced Care Paramedics bring years of cumulative education and experience to the job," explains Kris. "For example, Community Paramedics, working in consultation with hospitals, can make decisions in the field based on diagnostic equipment they bring to the patient's home, and can administer medications that can improve outcomes and the chances for a meaningful recovery."
Kris is employed full-time with Calian Health, providing medical screening and emergency care for those detained by Edmonton Police Services. He is also a Master Warrant Officer with 15 (Edmonton) Field Ambulance and is employed casually with Medavie Health Services where he works on the ambulance service in communities northwest of Edmonton.
Further to being an active practitioner, Kris welcomes any opportunity to pass on knowledge from his experiences in the field, including a tour of service to Afghanistan in 2008. He explains, "You see things in the field and that changes a person. Having the ability to provide teachable moments to younger practitioners keeps me motivated." Diagnosed with Post Traumatic Stress Disorder in 2011 after his tour, he now looks for opportunities to bring awareness to mental health to the general public, health practitioners, and other first responders.
Kris serves on the Council for the Alberta College of Paramedics, the regulatory body for all three levels of paramedicine in the province, Emergency Medical Responder (EMR), Primary Care Paramedic, (PCP) and Advanced Care Paramedic (ACP). Kris is one of seven elected paramedics in the province that form Council. His term began this year (2020) after he ran to become more involved and to help paramedicine advance as a self-regulated profession. 
Kris was the recipient of the 2018 Paramedic Pay It Forward Student Award. The award is peer-nominated and awarded to those who exemplify leadership, advocacy, and unity. He was nominated by two separate individuals for his leadership and significant community involvement. He has volunteered with the Edmonton Police Victim Services Unit, Big Brothers/Big Sisters, Sea Cadets, and is currently a St. John Ambassador.
For those considering further education in paramedicine, Kris' best advice is, "You have to commit and persevere and find mentors who will support your commitment. Nobody is having an easy time of it [returning to school]. Completing practicum placements all over the province, which ensures you get exceptional experiences, is amazing but demanding." Kris goes on to explain, "I did a rotation in a Cardiac Intensive Care Unit in Calgary, emergency rotations in Edmonton and Whitecourt, and a labour and delivery practicum in High Level. I made friends and gained a lot of experience in the process, which helps make up for the challenges."
With excellent memories of camaraderie and friendships that have endured beyond the ACP program, Kris observes of his NLC experience, "Online training is not equal across the playing field. The NLC model is, honestly, exceptional. They do a really good job of bringing the learning to the learner on their terms with the technology and the scheduling. The flexibility allowed me to continue working for the offsite portions of the program. NLC is the college I recommend to experienced and self-motivated practitioners who have busy lifestyles and who need flexibility in their delivery options. Some of my fondest memories in the last decade have occurred because of the program at NLC. The NLC delivery model works for me and can work for a lot of different people," he states.
Currently working on a Master's in Education, Kris lives on an acreage outside Edmonton with his wife, Rosa, and their two amazingly energetic young boys.
Learn more about Health Career Programs at Northern Lakes College