Graduate Wins Paramedic Pay It Forward Award
Posted on Jun 16, 2018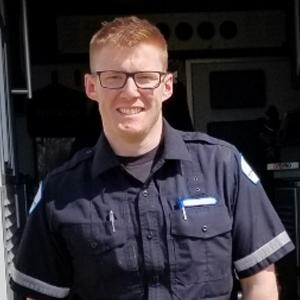 Kris Porlier is a graduate of the first cohort of the Advanced Care Paramedic program and the recipient of the 2018 Paramedic Pay It Forward Student Award. Created by paramedic graduates to increase the availability of scholarships, awards, and bursaries, the award is peer-nominated and awarded to those who exemplify leadership, advocacy, and unity. "I was honoured to receive the award because it is peer nominated. It means that you have done something to stand out amongst your peers. It was a nice boost."

Kathy Reid-Soucy, Dean of Health Programs at NLC says, "Kris is one of the most deserving ACP students. He is community-minded and was collaborative with other students. Kris was an exemplary student, with a desire for knowledge and to improve his community."

Nominated by a St. John's ambulance instructor for his significant involvement and volunteering, Porlier has volunteered with the Edmonton Police Victims' Services, Big Brothers/Big Sisters, and cadets. Porlier also volunteers as a St. John's Ambassador, participating in a program that offers low to no-cost courses for eligible organizations. He also teaches Mental Health First Aid. He currently sits on a board for domestic violence, which just broke ground on an 11-room safe house. He says that the Paramedic program practicum placements, which took him to various locations within the province, allowed him to see how other domestic violence groups function, and he brought that back to his home community.
When asked how he manages it all, he comments, "I have a super-supportive wife." They have two children, ages five and three.