Heart Work: Traditional Indigenous Crafting Leads to Healing
Posted on Aug 14, 2019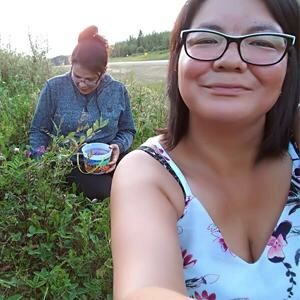 She did her beadwork as the sun came up. She resumed her work in the evenings when the house was quiet, once the children settled for the night. It was a labour of love, what she calls "heart work". With an estimated 40 to 50 hours of work, Northern Lakes College (NLC) alumni Ramona Young turned out her first pair of beaded mukluks.
Working alongside NLC Elder-in-Residence, Betty Jackson, this was Ramona's first experience with the traditional art of beading. She discovered an innate talent, one that both her mother and kokums (Cree for "grandmothers") possess. While Ramona has watched them do beadwork, it did not resonate with her until recently. 
"Working with Elder Betty helped to ground me, my family, and my home. My children see that I am content," shares Ramona. Traditional beadwork is one way in which Ramona is working her way through the intergenerational trauma left over from the residential school experience her parents and grandparents survived.
The work of what Ramona refers to as decolonizing includes berry picking, foraging for mint, listening to Cree, cutting moose meat and fish, and submerging herself in traditional teachings. "I am doing it for my children. I was lost growing up in the midst of the trauma," she explains. She is rediscovering the Cree language, which she lost once she started school, using "little words" with her kids whenever possible to keep the language alive. In short, Ramona is regaining her identify as an Indigenous woman.
Born and raised in Desmarais on Reserve 166A, Ramona has four children aged five to 18. A graduate of the Northern Lakes College Social Work Diploma program, she is relocating to Edmonton in the fall of 2019 to complete the last two years of her Bachelor of Social Work. The Edmonton-based cohort for the University of Calgary program will allow her to access some elective courses through MacEwan University. Ramona intends to take advantage of the services offered by MacEwan's Indigenous Centre, kihêw waciston, (Cree for "eagle's nest") and to enrol in a nêhiyawêwin (Cree) language course.
When she moves to Edmonton, she will be three hours from the support system that includes her mother, family, elders, and close friends. With five nephews and nieces and a sister in the city, she will rely on family and friends to help her transition into city life. At the heart of it all, her motivation for obtaining her degree will keep her focused on the ultimate goal, showing her children the value of education. "My children are watching," she says. "Education is the key."   
Through summer work in the Restorative Justice department at Bigstone Cree Nation, she is experiencing the restorative justice process, a traditional justice system with a focus on rehabilitation and reconciliation. "It is the traditional way of handling problems," comments Ramona. She has had the chance to sit in healing circles with an Elders' advisory council, piquing an interest in Aboriginal law and mental health therapy.
Wherever her studies lead her, she will ultimately return home to her community of Desmarais. She dreams of a beautiful log home in the bush, with a smoke house and dry meat rack and her children and grandchildren playing freely. She will continue to walk in two worlds, blending Western ways with traditional ways, reconciled somewhere between the two. And she will continue to do traditional beadwork in the early morning sunrise and the quiet of the evening.