NLC Alumni Flies High with Emergency Air Ambulance Service
Posted on Jun 23, 2021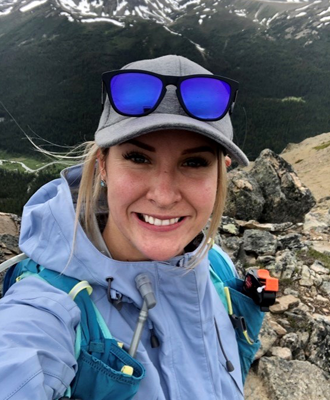 It is difficult to imagine Northern Lakes College Practical Nurse alumni, Alyce Fleming, being scared of anything. However, after a discouraging experience at another college, Alyce was daunted by the prospect of transferring to a new school.
"It makes me sad to think of how many people might have redirected careers because of poor post-secondary experiences," Alyce says. "It kind of breaks my heart." Recounting an experience before attending NLC, she says, "I had an instructor tell me that becoming a Registered Nurse in Critical Care was above my ability. I'm so glad that I decided to transfer to Northern Lakes College, where I had positive experiences and my growth was fostered."
"I feel like Northern Lakes College gave me the foundation to build confidence for what I do. And that was huge, especially coming from a place in which I had little confidence, to going to a place where my hard work was rewarded and encouraged." Alyce credits her instructors at NLC with helping to rebuild her confidence.
With the support of encouraging teachers, Alyce excelled in her studies and graduated from the program with exceptional marks and a drive to learn more. After working in pediatric and long-term care departments, Alyce chose to continue her studies to become a registered nurse. "My favourite thing about nursing," explains Alyce, "is that I'm never going to know everything. There will always be something else to learn. That's exciting."
Alyce had always been interested in the STARS Air Ambulance service, but her work at the hospital kept her busy. However, while driving to work one day, Alyce came upon a road accident in which the driver was severely injured. Her training allowed her to help the driver, on scene, while they waited for STARS Air Ambulance to transport him to hospital. As the helicopter lifted away into the sky, Alyce followed its flight with her eyes, reaffirming her desire to someday help others in the same way. It was a dream that would soon come true. Today, Alyce is part of the team at STARS, and continues to make future career plans involving the mentorship of new nurses.
When asked for advice to give to aspiring nurses, confident and compassionate Alyce says, "You can do it. You can absolutely do it! There are going to be points where you feel defeated or where your path is not as linear as you think it's supposed to be, but don't get discouraged. Give yourself time to take a break, regroup, and start again. You will absolutely get there."
Learn more about Health Careers at Northern Lakes College