"It was home. It was local. It was accessible."
Posted on Oct 16, 2020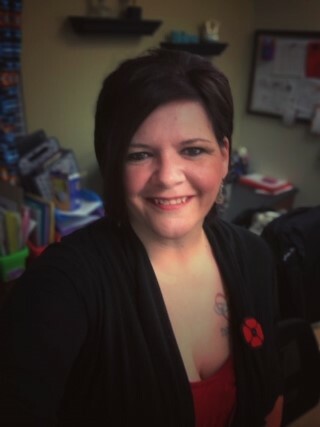 Alumni Joline Lambert
In conversation, Joline Lambert is vibrant and energetic; it's evident that a day spent with junior high students is a day she enjoys. "From the age of five, I aspired to be a teacher. I don't ever want to leave the classroom," she comments. Joline teaches at Oski Pasikoniwew Kamik (OPK) School which serves the members of the Bigstone Cree Nation in Wabasca-Desmarais.
Joline grew up on the Peavine Métis Settlement, eventually becoming a member. She enrolled in the Teacher Assistant program at Northern Lakes College, graduating in 2005. A few years later, she returned to take University Studies, followed by the Aboriginal Teacher Education Program (ATEP) offered by the University of Alberta through Northern Lakes College. She graduated with a Bachelor of Education in 2013.
Joline spent her first year teaching kindergarten in Garden River on the Little Red River Cree Nation in 2013-2014. In the fall of 2015, she started at OPK with the Bigstone Cree Nation Education Authority as a fifth grade teacher. In her fifth year with OPK, she was promoted to Vice-Principal for grades six to nine. In the fall of 2020, Joline returned to the classroom full time teaching Junior High math.
When asked why she chose to study with Northern Lakes College, she does not hesitate in her reply. "It was home. It was local. It was accessible. I was a single mom and wanted to raise my children where I had family support. I also did not want to raise my kids in the city."
Joline reminisces about her time in the ATEP program at the Grouard Campus, remembering the unity that she felt with her peers. "There were about ten of us in our cohort, out of a class of about 50 people. We were close; we helped each other not only in school, but also through life in general. Going through the ATEP program at NLC was not just an educational experience, it was like being a part of a family. At OPK, we have a saying, 'At OPK we are a family and education comes from the heart.' This is what I experienced with my ATEP cohort at NLC."
A championship Métis dancer, Joline hosts a Métis dance club at the school. She started dance at age seven, and danced with the Edmonton Canadian Friendship Centre Métis Cultural Dancers. Joline also teaches beadwork. She has two daughters, a grandson, and a granddaughter.
Of her choice to become a teacher, Joline explains, "I have known I wanted to be a teacher since I was in kindergarten. School was the place where I felt safe, and that was because of my kindergarten teacher. I wanted to be a teacher so I could be that person for other kids." She loves her profession, but advises anyone considering a teaching career, "Make sure you do it, not for the income, but for the outcome – seeing student successes and the pride you feel when you see a student achieve."
Joline loves the classroom, and continues to teach dance and beading. "A number of my 'ATEP sisters' work with me at OPK. We are still growing together. I find it awesome that our cohort still feels like a family. We still have our Facebook page, where we share lesson plans and successes."
Learn more about NLC's University Studies Program