NLC Dual Credit Not Just for High School Students
Posted on Nov 5, 2021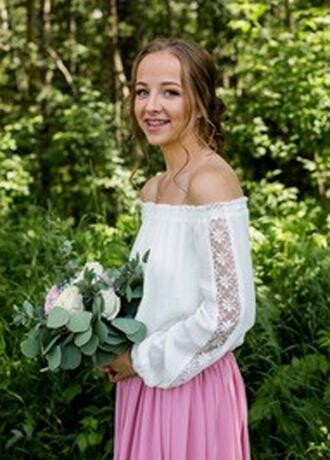 Jenessa Dejong wasn't looking to enrol in a college program when she first learned about Dual Credit programming at Northern Lakes College. "I hadn't really been thinking about my education, but showed up to a meeting about program options on a whim because my twin sister was interested in becoming a health care aide. A pamphlet the presenter gave out mentioned the Educational Assistant program, and I was really interested in that," Jenessa says.
However, the Education Assistant program was only being offered as part of the Dual Credit program in Barrhead, Jenessa's hometown. The Dual Credit program is traditionally offered to high school students, as a way to earn credits towards a high school diploma while also studying for a post-secondary program. As Jenessa had graduated high school the year before, she was initially disappointed, thinking she wouldn't be eligible to enrol. When Jenessa learned that students were welcome to join the program regardless of their graduation status, as long as they were under the age of 20, Jenessa was thrilled.
Jenessa explains, "A big reason why I hadn't pursued college was because I didn't want to leave my hometown. When I learned I could become an educational assistant through NLC at Barrhead Outreach School, I was like, 'Sweet! Cool!' I was even able to work full time while I studied. I worked at a construction company painting and helping with construction, and the whole experience was lots of fun!"
Jenessa planned to complete most of the program remotely, so the educational experience was seamless, even as the COVID-19 pandemic upset the rest of the world's routine. Despite the geographical distance between her and the other students, Jenessa became active on the Northern Lakes College Student Association and felt as though she got to know her instructors personally. "The other students and I were really interactive, responding to posts and collaborating on projects online. It was super-supportive, and really fun to see my virtual classmates congratulated at the online convocation," Jenessa enthuses.
The online experience benefited Jenessa in unexpected ways. Once familiar with online learning, she soon found she was confident with online job interviews, too. Jenessa secured a job working in a sixth-grade classroom in southern Alberta. She also plans to coach volleyball on a volunteer basis in her new community. As she explains, "I come from a small community with a parent-run school. My mom and dad were always helping out at the school, fixing up things and catering fundraisers. Seeing them as leaders showed me a great example as what it means to be a volunteer."
In the future, Jenessa may consider pursuing an education degree but, for now, she's happy to simply impart advice for prospective NLC students: "I didn't think I would go to post-secondary school because I hadn't graduated as an all-star student. My advice to other students would be no matter what your high school marks look like, if you're passionate about your future and willing to work for it, anything is possible! Go for it!"

Learn more about NLC's Dual Credit Programs