Northern Lakes College: A Family Affair
Posted on Oct 8, 2019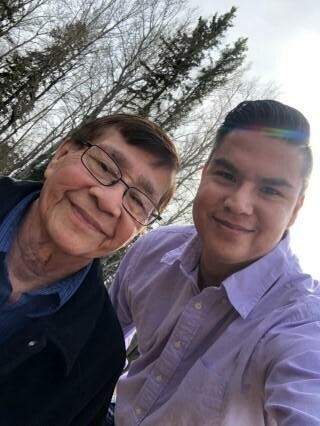 Northern Lakes College has always been a part of Andy Alook's life. As a youngster, he would often accompany his dad, Russell Alook, to the campus. Russell was an instructor in the College's Academic Upgrading program at the Wabasca Campus for over 30 years. His mother, after raising her family, took the Health Care Aide program at NLC and works with Bigstone Health Commission. It was only natural that Andy would find himself as a student of the College. This is his educational story.  
Andy was born and raised in Desmarais on the Bigstone Cree Nation. While he has lived on reserve for the majority of his life, he has left on a couple of occasions in the last ten years to pursue educational and career opportunities. He always finds his way back home, though. In July 2019, he moved back to the community to take on the role of Assistant Director of Health for the Bigstone Health Commission.
Andy graduated from Mistassiniy School in Wabasca, then attended a NAIT pre-technology program. Moving to Edmonton was a challenge for the 18-year-old, and he made his way back home after the first year. He found employment at the local Home Hardware store. Andy had part-time jobs since the age of 14, so he knew what to expect in a workplace.
Soon though, the call to further his education could not be ignored. The NLC campus, which had always been a part of his life, beckoned. After completing one year of Academic Upgrading, he enrolled in the College's Computer Technician program in Slave Lake, completing in 2007. Certification in hand, it did not take long for opportunity to come knocking. Andy received a job offer with Bigstone Education Authority to work as a Computer Technician at the Oski Pasikoniwew Kamik School (also known as OPK or Bigstone Community School) in the fall of 2007. Within a year, he was promoted to the Network Administrator position for the Authority.
In 2009, Andy became the Website Development and Communications Liaison for the Bigstone Health Commission. He worked in that capacity until the fall of 2011, when he returned to NLC to take the Business Administration Management Diploma program. Graduating in 2013, he returned to the Bigstone Health Commission, working various positions in the Finance and Community & Public Health departments.
During this time, he learned about the First Nations Health Management Association, and began pursuing the Certified First Nations Health Management designation, a nationally-recognized designation. He was one of the first members of the Bigstone Cree Nation to receive the designation.
In 2015, Andy and his wife relocated to Edmonton while his wife pursued further training to complete a Bachelor of Business Administration in Accounting at NAIT. He was able to transfer his position to the Bigstone Corporate office located in Edmonton. Prior to returning to the community in July 2019, he worked for the Alberta First Nations Information Governance Centre as a Health Surveillance Analyst intern with a placement at the Ministry of Health for the Province of Alberta. He completed a two-year internship in their Analytics and Performance Reporting Branch.
Of his burgeoning career in the health sector, Andy quips, "Health chose me; I didn't choose health." He does reflect back to his experience with the Northern Lakes College Students' Association during his time as a student, commenting, "Meeting Business Administration instructor, Tom Bidart, left an impact on how I see the intersection of business and health, and how one can improve the other."
Andy's relationship with Northern Lakes College continues today. He was involved in the early stages of development of the Health Career Preparation program, an initiative between multiple community stakeholders and Northern Lakes College, to prepare students to enter into Health programming. More recently, in August 2019, Andy was able to attend the graduation of 14 Health Care Aides in the community. Explains Andy, "Such an initiative is so important for the recruitment and retention of local community members in the health professions. We have always had a high turnover rate of health professionals from outside the community. It is important to train local community members so that trainees will stay in the community."
Andy defines his involvement with the initiative as a pure moment of success. "To be in a position to help my community and its members. To make a change in their lives and move our community forward. Being able to give back to the community through involvement with initiatives such as this is so satisfying."
Andy is proud of his family's long history with NLC, "It is so important for people to have the opportunity to pursue an education within their community. I know only too well the difficulties of leaving the community to pursue an education. NLC being in the community and offering a wide variety of programs allows community members to pursue post-secondary goals they otherwise could not."
Of his future plans Andy shares, "There is a Health Administration program through Athabasca University, to which my 60 NLC credits from my Management diploma are fully transferable." Long term, his commitment is to his community, his wife, and the positive upbringing of his six-year-old daughter, who may also someday attend NLC. "There is room to grow within the Health Commission. I aspire to be the Health Director or CEO someday. I also have an interest in politics, so may run for Bigstone Cree Nation Chief and Council." The future is bright for Andy.
Learn more about NLC's Academic Upgrading Programs
Learn more about NLC's Business and Administrative Programs