Not Lost in Translation: Providing French-speaking Albertans with Health Services
Posted on Feb 20, 2019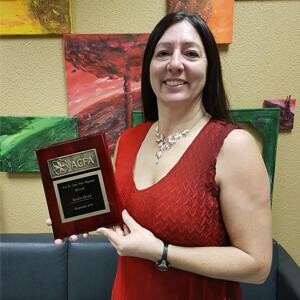 The large, French-speaking population of the Smoky River Region is able to obtain health services in French thanks in part to the work and dedication of Rachelle Bérubé. As the French Health Coordinator for Alberta Health Services' North Zone, Rachelle's role is to promote and improve access and quality of health services in the French language. "Approximately ten years ago, there were 400 health care
professionals identified as French-speaking in Alberta. As of September 2018, there are now 1775," says Rachelle.
Born and raised in the predominantly French-speaking village of Girouxville, Rachelle graduated from Georges P. Vanier High School in Donnelly. She then enrolled in the bilingual Secretarial Arts Certificate program at the Northern Lakes College campus in McLennan, graduating in 1987. Rachelle immediately landed work at the Sacred Heart Hospital in McLennan, thanks in part to her successful practicum there during her program. She continued to work until the early 90s, when she took time away to raise a family with her husband, Mark, with whom she has five children. Today, she continues to enjoy making a difference for patients, clients, residents, and communities after 17 years for with the healthcare system.

Rachelle was recently awarded the Prix Dr. Jean-Paul Bugeaud Award of Excellence by the Association Canadienne-Française de l'Alberta to recognize her dedication to improving the quality of French services to patients. This includes her advocacy to attract bilingual nursing students from the University of Alberta's Bachelor of Science in Nursing (Bilingual) program to the North Zone for clinical experiences. "This March, we are also hoping to welcome the first cohort of Health Care Aide students (Préposé aux soins de santé) from the Centre collégial de l'Alberta (the University of Alberta's Campus Saint-Jean) to do their practical experiences in our communities," she says. "In coordination with Alberta's Rural Health Professions Action Plan (RhPAP) and the Smoky River Regional Physician Recruitment and Retention Committee, we also host medical students for the Bilingual RhPAP Healthcare Skills Weekend in Northern Alberta."
"A typical day in my role as French Health Coordinator might include accompanying a French-speaking patient in an ambulance transfer, particularly if the Emergency Medical Services personnel are not bilingual," she explains. It may also include working with the Seniors' Health Consultation Team, conducting patient evaluations. Rachelle has been trained to conduct cognitive testing, allowing patients to do the evaluations in their first language. Rachelle will then meet with the medical team to report results and attends the consultation with the patient to translate between the health professionals and patient.

Rachelle looks back on a satisfying career, and looks forward to eventual retirement where she will spend more time with her grandchildren. She and Mark will continue to farm, with the hopes of passing down the family farm to their children.