Paying it Forward – NLC Alumni becomes Dean
Posted on Sep 4, 2019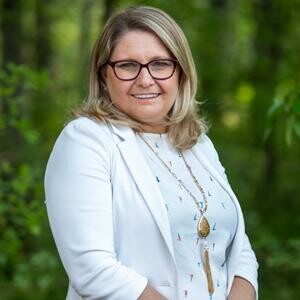 The Dean of Nursing and Allied Health at Northern Lakes College has made it her mission to provide quality educational opportunities in the field of health care to northern Alberta students. For Kathy Reid-Soucy, this is not only a professional goal but a personal one, as well. She is paying it forward. That is because Kathy is a beneficiary of the fact that Northern Lakes College (NLC) provides such programming in rural and remote northern Alberta communities. "I would not be in this position if it was not for NLC's mission, vision, and values," explains Kathy.
Kathy was a young mom with four children, living in the community of La Crete, when she enrolled in the College's Licensed Practical Nurse (LPN) program at the Fort Vermilion Campus in 1998. Her youngest child had entered kindergarten and she took the opportunity to add to her credential as a Health Care Aide, which she had completed via distance learning through Alberta Vocational College (now NLC) in 1996.
La Crete is located 45 kilometres from Fort Vermilion, and Kathy made the one-hour round trip commute regularly over the course of her program. Though there were long days, sleepless nights, and a tricky balancing act of family and school, she persevered and obtained her LPN designation. Upon completion of her program, she worked in both the long-term care facility and the hospital in La Crete, quickly becoming the Nursing Manager.
While continuing to work full-time as a manager and raising her young family, Kathy enrolled in Athabasca University's distance-delivered LPN to RN (Registered Nurse) bridging program. Upon achieving her RN designation, she moved to High Level and became the General Manager of Aeromedical Emergency Services (AES). The most northern Alberta Health Services AES in Alberta, it included two aircraft and three ground units, and also ran patch flights with smaller aircraft into remote communities like Jean D'Or, Fox Lake, and Garden River.  
This move from her home community of La Crete meant that Kathy no longer had her support system in place. With her four children still in school, but now older and participating in school sports and other activities, the task of juggling time and commitments became even more complicated. "The key, when you move to a new community and leave your whole support system behind, is to open yourself to allowing others to help you," she advises.  
Along with obtaining her LPN and RN, Kathy also managed to find the time between training and work schedules to achieve her Primary Care Paramedic (PCP) in 2001 and Advanced Care Paramedic (ACP) in 2008, primarily to help fill the shift gaps often encountered by Emergency Medical Services. This "gap" became a driving force for Kathy to become a health educator. She observed that there were never enough practitioners to meet the demand in the north.
Kathy began teaching the clinical portions of the Practical Nurse (PN) and PCP programs with Northern Lakes College in 2011, soon becoming involved with instruction of the theory portions, as well. In 2014, she became Coordinator of the Practical Nurse program, and simultaneously began working towards her Master of Nursing through Athabasca University. In short order, she became the Chair of Allied Health programs, overseeing ACP, Emergency Medical Responder, Health Care Aide, and PCP.
In 2018, Kathy assumed the role of Dean, Nursing and Allied Health, overseeing all health programming at the College. "My number one priority is giving students access to education in health programs that they would not otherwise have. Education opens the door for everything," says the former student turned Dean. "That is what NLC did for me."