Beyond the books: Striving in the midst of challenges
Posted on Jun 12, 2017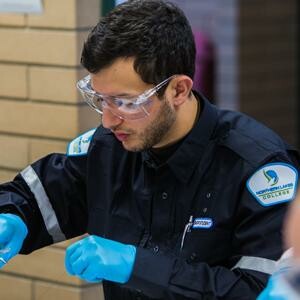 News today is widely accessible, and we often hear or read stories about people who require acute medical care. What we don't hear or read about in the news are the stories of the people who work behind the scenes providing emergency medical services and the challenges they face.
Tarek Kadry, a Northern Lakes College student is one of those people who has a strong desire to help others. Kadry was already working in the field as an Emergency Medical Responder when he met Ann-Marie Aubertin, who would become his future instructor. "The first time I met Tarek was when I was working for Slave Lake AHS EMS. I had flown into Provost to pick up a patient, and Tarek was one of the Emergency Medical Responders who picked us up at the airport to bring us to the hospital. What stood out for me immediately was how respectful and inquisitive he was," she said.
In 2011, Kadry enrolled into the Primary Care Paramedic program (formerly known as the Emergency Medical Technician program). Kadry said Aubertin was one of his inspirations. Tarek chose Northern Lakes College because it allowed him to continue to work and study at the same time.  Kadry struggled but overcame the challenges of being a full time student while working and living away from his family. Aubertin says Kadry is an inspiration to others including herself. "What inspires me most about Tarek is that he takes his education seriously and constantly strives to be his best. He faces challenges head on until he is satisfied with the outcome."
In the fall of 2016, NLC introduced the two-year Advanced Care Paramedic program.  Aubertin said to Kadry "You need to be in this program; the profession needs people like you."  With the encouragement from Aubertin, Kadry applied to the program but was unsure if he would be admitted due to the limited number of seats and the high demand.  And Aubertin was true to her word; she helped guide him through his challenges so he could be successful. Tarek credits his success to the support he received at NLC. "When I call the office at Northern Lakes College, they know my name, and I know theirs. The staff and instructors are very personable, and they treat people like family. They always show an interest in my studies and how I am doing."
The Advanced Care Paramedic program at Northern Lakes College is a two-year diploma program designed to help students gain the entry-level knowledge and skills they need to practice emergency prehospital medical/trauma care and to function as a vital member of the healthcare team.