The Art of the Weld
Posted on Mar 6, 2019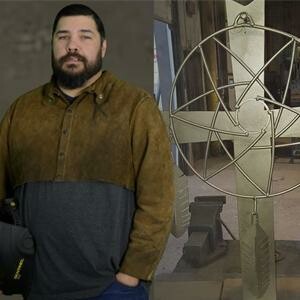 When you think of art forms, welding is not a medium that comes to mind. The work of Ralph Courtorielle creates a compelling argument for its inclusion. A journeyman welder, Ralph completed his welding training at Northern Lakes College and is currently teaching Pre-Employment Welding at the College.
Ralph had been working in the trades for over ten years, doing the work but not getting the wage he would as a journeyman welder, compelling him to enrol in the First Period of Welder Apprenticeship at Northern Lakes College. Welders work in diverse fields including oil, gas, or mills, and there are many opportunities to be self-employed. Though now a journeyman welder with a Red Seal designation, a national certification that allows him to weld throughout Canada, Ralph is a perpetual student and continues to learn. "Every year there is something new or more efficient in the field of welding, and I find this interesting," he observes.
This love of learning has translated into a passion for teaching. Ralph takes great pleasure in passing on what he has learned. He considers himself a mentor, not only teaching the technical aspects of welding that lead to employment, but also the artistic aspects of the trade.
"I think the reason that I am connecting so well with the pre-employment students is that I am a product of pre-employment training myself. When I first picked up the welder, it was as though I was meant to do it. I want to show students that, though welding can be taxing on your body and physically demanding, there is a lot of room for the creative. It is not all hard work; there is fun involved." Ralph enjoys turning a flat sheet of metal into something useful or beautiful.
For those, such as Ralph, with an artistic gift, welding can also be a creative outlet. When he and his family were unable to find a headstone they liked for his mother's grave, Ralph donned his welding mask and gloves. He lovingly created a custom headstone, incorporating meaningful aspects of Indigenous culture and spiritual beliefs, to honour his mother's life.
Originally from Grouard and now living in High Prairie, Ralph is married and the father of three sons. He enjoys playing baseball and spending time with family. Over the last few years, he has played in baseball tournaments all over Alberta and has gone to national championships as far away as Montréal.
Ralph reminisces about his time studying at NLC and the support he received from his instructors. "Passing the red seal journeyman exam was harder than anticipated. The College instructors provided us with excellent exam preparation and review in class. Instructor Chris Montgomery-Hewett was very thorough and drove home the details like the safety aspects and the math that is involved in welding. Jeff VanWyck and Jody Rees both helped me along with welds for my third year exams, in particular stick welding."
With his artistic approach to welding, don't be surprised if you see his work featured in an exhibition at some point. Until then, he will continue to pass on his passion for the trade to up-and-coming welders.