Friend of NLC: 2016 Award Recipient
Posted on Jun 3, 2016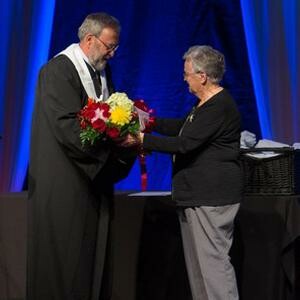 Known by her colleagues, family and friends for demonstrating that "actions are much louder than words" Lilian Beland has played a key role in the education of thousands of students during the course of her career.
Her love of teaching has not only encompassed a span of 37 years within a formal teaching environment, but has also continued on year after year through the help she provides to adult students, who continue to seek her out, even in her retirement. Lilian has taught in the communities of Falher, Fort Kent, and Donnelly. She has provided leadership for 25 of her teaching years in the role of Assistant Principle at Georges P Vanier School.
In addition to teaching fulltime, while raising 4 children, Lilian volunteered her time assisting with multiple community organizations. Even now, in her "retirement years", Lilian continues to be an active member within her community including 27 years as a member of the Smoky River Community Educational Committee, including membership on the larger Council of Community Education Committees. Lilian continues to share her love of teaching and has truly demonstrated that "actions are much louder than words!"
Lilian has been the recipient of numerous awards including:
Community Service Award for "Volunteer of the Year" in the community of McLennan
Diamond Jubilee Medal for Community Service
We are honoured to present Lilian with the 2016 "Friend of Northern Lakes College Award" in recognition of her outstanding contribution and leadership provided to the Smoky River Community Education.