Friend of NLC: 2018 Award Recipient
Posted on Jun 4, 2018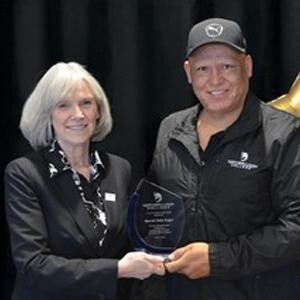 The College was honoured to present Marcel D. Auger, Reeve, MD of Opportunity No. 17 with the award in recognition of his support of the College. Marcel was presented with the award during the Convocation ceremony hosted in June 2018 in Slave Lake.
Community
Community residents know Marcel as considerate and respectful of differences. His strong leadership skills and ability to strengthen relationships have helped his community become united and stronger. Marcel is the Chair of the Wabasca Community Education Committee and has served on the committee for several years as an elected official of the MD of Opportunity. He brings new ideas to the table and looks for opportunities to assist the community.
Education
Marcel attended E.W. Pratt Senior High School in High Prairie, graduated from St. Joseph High School in Edmonton, and attended the University of Alberta obtaining a Bachelor in Physical Education with a minor in Social Studies. A strong advocate of post-secondary education and lifelong learning, he believes that all northern residents should be able to access education, earn a good living, and be role models for their families.
Involvement
Marcel resides in Wabasca with his wife, Tina, and children. Marcel is an avid sportsman and loves to play golf and hockey. As a father of three young children, he is often at the arena, the pool, or on the golf course, along with his family. Marcel has volunteered countless hours coaching hockey, baseball, soccer, and junior golf. He is a strong role model for youth.