Friend of NLC: 2023 Award Recipient
Posted on Jun 29, 2023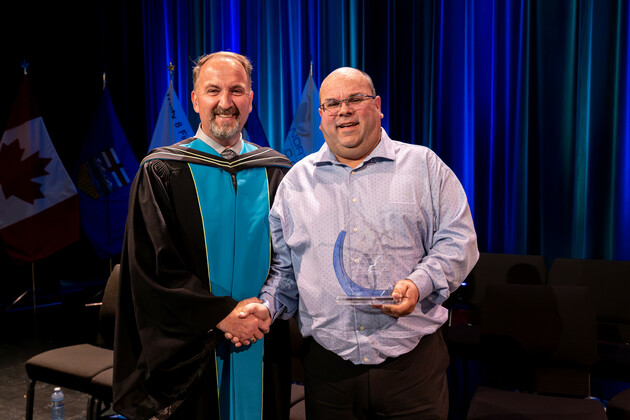 The recipient of the 2023 Friend of Northern Lakes College Award is
Fort Vermilion School Division
Northern Lakes College is always eager to partner with Fort Vermilion School Division, and we are very pleased to announce that Fort Vermillion School Division is the winner of the 2023 Friend of Northern Lakes College Award.
The Fort Vermillion School Division and Northern Lakes College have enjoyed an excellent partnership for many years. The Division was an early adopter of dual credit programming and a supporter of dual credit programs at Northern Lakes College, in particular. Dual Credit programs allow high school students to participate in College programming, while earning both high school and college credit. The College works on dual credit initiatives with a number of school divisions across the province – in excess of 20 school divisions actually. Over the years, the Fort Vermilion School Division has consistently been one of the divisions with the highest number of high school students engaging with Northern Lakes College for dual credit. This trend continues today. Fort Vermilion School Division has continued to support dual credit programming in spite of funding changes by the province. The Division continues to invest in dual credit programming, because they see the advantages dual credit creates for their students and their communities. It's just fantastic!
Fort Vermilion School Division also promotes NLC programs to their staff, including the Educational Assistant Certificate, and encourages their staff to choose Northern Lakes College when considering enrolling in a Bachelor of Education. And there is more great news coming for the relationship between Northern Lakes College and Fort Vermillion School Division. As we speak, there is a proposal with Alberta Education for the division to partner with NLC in their pursuit to become a Collegiate school. The College is very pleased that Fort Vermillion School Division chose to reach out to NLC to partner on this initiative.
Fort Vermilion School Division is an innovative and forward-thinking organization. They provide both students and staff with educational and training opportunities to meet local labour market needs, and beyond.