Canada Job Grant
Canada-Alberta Job Grant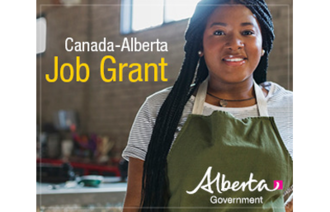 Canadian businesses can get up to two-thirds of their employee training costs covered through the Canada Job Grant. 
The grant is available to businesses in all sectors. Applications must be made by the employer. Individuals who are interested in the program must ask their employer to apply for training.
Funding for employee training is available through the Canada-Alberta Job Grant. Applications must be submitted at least 30 days before the training start date.
Eligible Programs and Courses
Northern Lakes College offers courses and programs that are eligible for the Canada-Alberta Job Grant. We also provide group training options for organizations. To find out more about what we have to offer, contact work@northernlakescollege.ca.
These programs and courses are the perfect fit to apply for the Canada-Alberta Job Grant
Canada Job Grant Information
To qualify for funding, training must:
be 21 hours and over in length
be completed within one year of the program start date
be provided by a third party
not replace prior training investments
result in a record of completion, a mark, a certificate, or an industry-recognized credential
Training can be done online, on-site, and in the classroom. Classes can be part-time or full-time.
Application forms, instructions and frequently asked questions are available on the Canada-Alberta Job Grant Application Guide.
Please note: if you're unemployed and live in Alberta, the Canada Job Grant will now cover training costs for eligible unemployed hires up to $15,000. Please see the Canada-Alberta Job Grant webpage for more information. 
For more information on the Canada Job Grant and how employers can apply, select a province or territory from the list below.