Canada-Alberta Job Grant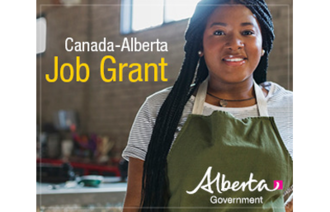 What is the Canada-Alberta Job Grant? Canadian businesses can get up to two-thirds of their employee training costs covered through the Canada Job Grant. 
The grant is available to businesses in all sectors. Applications must be made by the employer. Individuals who are interested in the program must ask their employer to apply for training.
Funding for employee training is available through the Canada-Alberta Job Grant. 
Eligible Programs and Courses
Northern Lakes College offers courses and programs that are eligible for the Canada-Alberta Job Grant. We also provide group training options for organizations. These programs and courses are the perfect fit to apply for the Canada-Alberta Job Grant:
Canada Job Grant Information
To qualify for funding, training must:
be 21 hours and over in length
be completed within one year of the program start date
be provided by a third party
result in a record of completion, a mark, a certificate, or an industry-recognized credential
Training can be part-time or full-time and delivered online.
Application forms, instructions and frequently asked questions are available on the Canada-Alberta Job Grant Application Guide.
Please note: If you're unemployed and live in Alberta, the Canada Job Grant will now cover training costs for eligible unemployed hires up to $15,000. Please see the Canada-Alberta Job Grant webpage for more information. 


---
Let's Talk!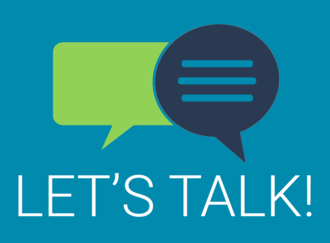 Our Continuing Education & Corporate Training department specializes in helping your organization meet your training needs. With continual customer service and more than 50 years of experience providing quality education, we are committed to help you reach your training goals.
Northern Lakes College offers live online sessions with businesses and organizations.
Email Us to Set Up an Appointment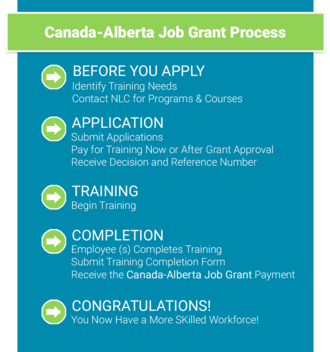 For more information on the Canada Job Grant and how employers can apply, select a province or territory from the list below:
Alberta
British Columbia
Manitoba
Newfoundland and Labrador
New Brunswick
Northwest Territories
Nova Scotia
Nunavut
Ontario
Prince Edward Island
Saskatchewan
Yukon