Mobile Training Labs
Access to Education in the North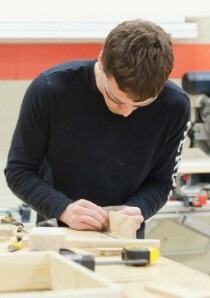 Northern Lakes College is working to provide educational opportunities to communities using our state-of-the art Mobile Trades Labs. The hands-on learning opportunities for your organization or community are nearly endless!
Northern Lakes College can customize training to suit your community's needs
Utilizing our Mobile Trades Lab, we will deliver tailor-made training that your community desires. We work with you to customize the training. The state-of-the-art trailers allow us to provide training right in your community.
Call us today!
1-866-652-3456
Email: work@northernlakescollege.ca
Totally Mobile: Add a new teaching space in weeks!

Each Mobile Trades Lab is 50-feet-long and opens up to 1,500 square feet of training space. The labs have eight portable workstations for hands-on training with state-of-the-art equipment and tools.
The labs can be connected to a power supply or the diesel generators can be used to supply electrical power and heat. There is no infrastructure to worry about because the labs are self-contained.
Creating Opportunities
Whether you're an educator, a corporation, a First Nation, or a Métis Settlement looking to generate excitement for career paths in a variety of Trades, creating a mobile, hands-on interactive learning experience will create an opportunity for a more meaningful education.
We want students to be successful, and we will help every step of the way!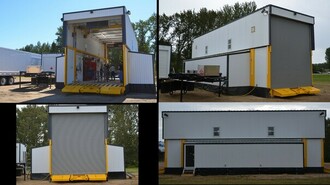 Bringing Education to You!
Northern Lakes College takes its commitment one step further in providing quality educational programming. Our Mobile Trades Labs give students the convenience of staying in their home communities while being introduced to hands-on trades experiences that will help them match their gained skillsets to career opportunities.
Northern Lakes College has a reputation of providing high-quality programming exposure to their programs in rural areas and will continue to support and introduce students to the opportunities available in their own communities.
Exposure to Career Opportunities
Continuing Education & Corporate Training offers 16-week sessions of the Trades Pre-employment program to provide classroom training and practical hands-on experience. Upon successful completion of the Pre-employment program, candidates are eligible to challenge the First Period Apprenticeship & Industry Training (AIT) exam, and become a registered apprentice. The Mobile Trades Labs provide space for classroom training and practical hands-on experience. The Labs can be effortlessly customized to offer * Carpentry *Welding *Electrical * Heavy Duty Mechanic Technician *and much more!