Health Care Aide
---
Health Care Aide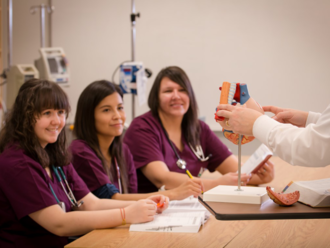 Do you want to make a difference in your community? Do you genuinely care about helping others? Do you want a rewarding career that is in high demand? As a graduate of the Health Care Aide program, you can work as a vital member of the health care team, assisting regulated members in providing care to clients of all ages. Health Care Aides may work in acute care, continuing care, long-term care, home care, and assisted living settings. Our Health Care Aide Program follows the 2019 Government of Alberta provincial curriculum and includes both theory and practical experiences.
At NLC, we understand our students need the flexibility to balance work and home. Our Health Care Aide program is flexible enough to fit into your lifestyle:
Delivered online, through Supported Distance Learning with face-to-face lab components
Students have 24/7 access to recorded lectures, course materials, discussion forums, and learning activities.
Apply as a full-time student only
Late applications will be accepted if there are seats available in the program. Apply early!

This program is available to high school students. Talk to your high school counsellor for more information. 
Learn more about Dual Credit.
Costs associated with travel to attend onsite lab sessions and the practicums are the student's responsibility. Participation and attendance to the lab sessions and completion of the practicums are mandatory for successful program completion. The dates for the onsite sessions and the clinical practicums are not yet determined, and will be updated on the Northern Lakes College website when available.
Graduates have gained successful employment as a Health Care Aide, Health Care Assistant, and Mental Health Aide.
Health Care Aide Employed Student Tutored Education Program (eSTEP)
If you are a non-certified Health Care Aide seeking certification, Northern Lakes College's Health Care Aide eStep Program is for you. The Employed Student Tutored Education Program (eStep) is an online, distance-delivered program designed to provide employed students with the support they require to gain certification as a Health Care Aide
There are four student intakes per year - October, December, February, and April. You can start the 1st day of any of these months as long as you are registered by the 10th day of the previous month. You will continue to gain work experience in the clinical setting, and that experience may be eligible for practicum credits. You will have one year to complete the program. On completing the required six theory courses, learners are required to write an HCA Provincial Exam to obtain a Government of Alberta Health Care Aide Certificate.
October 2, 2023 - October 2, 2024
December 4, 2023 - December 4, 2024
February 5, 2024 - February 5, 2025 
April 1, 2024 - April 1, 2025 
Graduates are able to work as important members of the health care team in acute care, continuing care, long-term care, home care, and assisted living settings.