Practical Nurse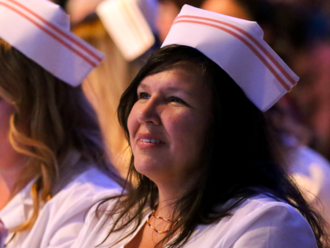 Are you looking for a challenging and rewarding career in health care? The Practical Nurse program prepares you to earn a license, enabling you to work as part of a health team. Practical nursing is a self-regulated profession with a unique body of knowledge, standards of practice, code of ethics, competencies, and a societal contract to provide safe, quality, and holistic patient care.
This program is delivered through Supported Distance Learning and face-to-face lab components. This delivery method allows students to pursue their educational goals in selected communities; however, students in the program are likely to have to relocate for short periods of time to another community in order to complete the clinical requirements of the program or travel to meet the requirements for nursing lab experiential learning. 
Apply as a part-time or full-time student
Two years full-time
Late applications will be accepted if there are seats available in the program. Apply early!

This program is available to high school students. Talk to your high school counsellor for more information. 
Learn more about Dual Credit. 
Practical Nurse September - May 
Our very successful and highly-recommended program follows all practical requirements as defined by the College of Licensed Practical Nurses of Alberta and Alberta Health Services. 

Courses that include:
The goal of the Practical Nurse program is to produce a competent nurse, eligible for registration and licensing with the College of Licensed Practical Nurses of Alberta. Licensed Practical Nurses provide care to clients of all ages in a variety of health care settings. The Licensed Practical Nurse is a vital member of today's health care team and is in much demand throughout the province in nursing care facilities, hospitals, physicians' offices, mental health, general care facilities, and home care.
Further Educational Opportunities
+
Graduates of the Practical Nurse diploma may be eligible for acceptance into the Post LPN-Bachelor of Nursing program at Athabasca University with a minimum of 30 credits of advanced standing or into the Bachelor of Professional Arts with 45 credits of advanced standing. Individuals are still required to meet all admission requirements prior to acceptance into the program. Graduates are eligible to receive 57 credits from Thompson Rivers University toward a Bachelor of Health Science and 60 credits toward a Bachelor of General Studies. Potential students should speak to a program advisor for further clarification of transferability.