Pre-Employment Trades - High Level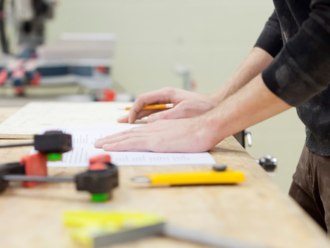 In today's economy, training is critical. However, training can be expensive. Pre-Employment Trades programming teaches the theory portion of trades training in advance of obtaining the hands-on experience with an employer. In the trades, a candidate is normally employed (a.k.a. apprenticed) in advance of attending training.
Pre-employment trades offered at NLC include Carpenter, Electrician, Heavy Equipment Technician (Mechanic), Industrial Mechanic (Millwright), and Welder. Each program covers the entire First Period theory of that trade. In essence, students complete the first year of theory required for a trade without leaving home and without incurring the costs associated with post-secondary education! Northern Lakes College sets up Pre-Employment Trades students to challenge the First Period apprenticeship exam in their chosen trade.
At NLC, we understand our students need the flexibility to balance work and home. Our Pre-Employment programs are flexible enough to fit into your lifestyle:
Programs range from 12 to 16 weeks
Apply as a full-time student
Pre-Employment Trades applications should be submitted at least 3 weeks prior to the start date.

This program is available to high school students. Talk to your high school counsellor for more information. 
Learn more about Dual Credit.
Not sure where to start in your trades' career? See the Trade Pathways document to help you determine where to begin. 
Pre-Employment Carpenter
Pre-Employment Electrician
Pre-Employment Welder
Pre-Employment Carpenter
Most carpenters are employed by general contractors, are self-employed, or do construction or maintenance work for government agencies, utility companies, or manufacturing firms. Employment prospects for carpenters vary considerably depending upon the sector or type of employer. Journeyperson wage rates vary, but generally range from $25 to $38 an hour plus benefits. The carpentry trade can be a stepping stone to unlimited possibilities. Carpenters may advance to foreman, subcontractor, construction superintendent, or contractor. They are involved in every phase of construction, and create the base buildings that most trades will follow in the construction cycle. This overall knowledge is an advantage when applying for supervisory positions.
Pre-Employment Electrician
Electricians work for construction and maintenance contractors, manufacturers, resource companies, and other large organizations. They must be willing to go where the work exists. Membership in a trade union is voluntary; however, some contractors employ only union people. Journeyperson wage rates vary, but generally range from $30 to $50 an hour and may include benefits. Electricians may advance to positions such as foreman, superintendent, estimator, electrical inspector, technical instructor, or move into a management role. Some electricians start their own contracting businesses. In Alberta, a valid Master Electrician Identification Number is required to pull electrical work permits. Alberta-certified electricians may apply to the Alberta Safety Codes Council to become Master Electricians following three years of certification.
Pre-Employment Welder
Welders are employed in a variety of industries including vessel or structural steel assembly, pipeline construction, commercial construction, industrial construction, steel fabrication, and heavy equipment repair. Employment prospects for welders change with seasonal and economic climates. Journeyperson wage rates vary, but generally range from $25 to $40 an hour plus benefits. Experienced welders may advance to positions such as welding inspector, welding foreman or supervisor, or plant supervisor. Some open their own repair shops, or work as portable rig welders who contract out their services.
Further Educational Opportunities
+
Pre-Employment Carpenter
Carpenter Apprenticeship Program: First Period, Second Period, Third Period, and Fourth Period.
Pre-Employment Electrician
Electrical Apprenticeship Program: First Period, Second Period, Third Period, and Fourth Period. Journeyperson Electricians can become Master Electricians. Electricians often take further training to gain additional expertise in variable frequency drives, code upgrades, cathodic protection, and alternative energy installation. This dynamic and continually changing trade often requires updating.
Pre-Employment Welder
Welder Apprenticeship Levels include First Period, Second Period, and Third Period. Journeyperson Welders often gain additional expertise. Further education can lead to B-pressure certification, Canadian Welding Bureau Certification, and endorsements for specialty metals and processes.